Hazardous Waste Removal Services Checklist

Hazardous waste removal services are at the core of Panda Environmental's business, and our wealth of experience with hazardous waste removal has allowed us to become an authority of what a hazardous waste removal service should entail. This article will discuss services your hazardous waste removal company should offer and locations that Panda environmental offers services to. Click here to contact Panda today.
Solid Hazardous Waste Pickup: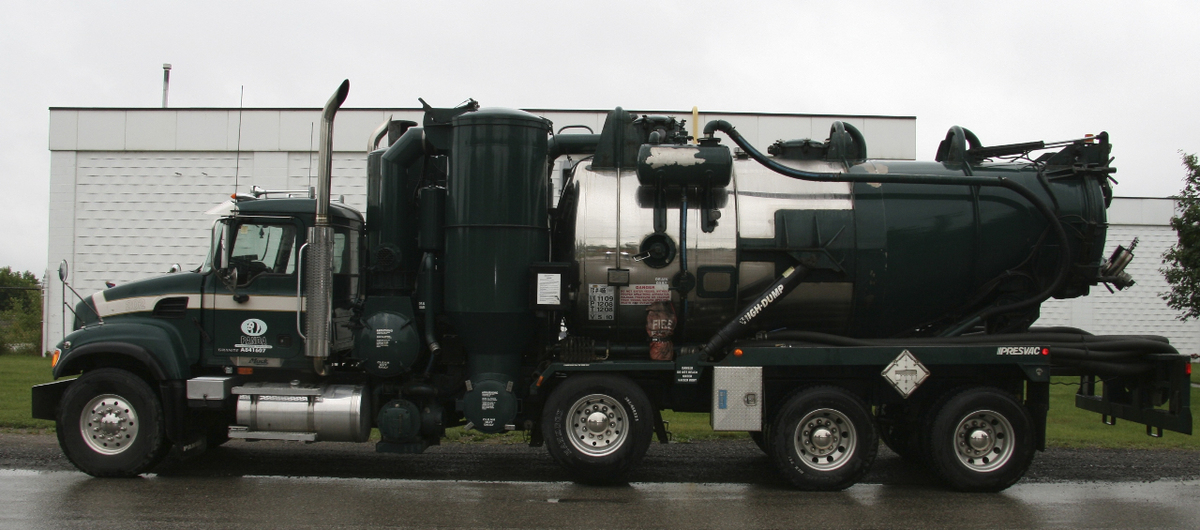 Waste removal companies should provide solid and light hazardous removal in the form of drum truck services. This allows for hazardous waste to remain in a drum/tote without having to have it be pumped out. Drivers should also be happy to assist with the loading of hazardous waste into drum trucks. The following is a list of the materials Panda can pick up with our drum truck services:
Hazardous & Liquid Industrial Waste Removal
Drum Removal
Tote Removal
Lab-packing Services
Paint & Sludge Removal

Waste Glycol and Oil Removal
Electronic Waste Recycling
Fluorescent Tube & Industrial Lighting Recycling
Battery Pick-up for Recycling

 
Liquid Hazardous Waste Pickup:
It is also important for waste removal companies to offer liquid waste pick up. Panda provides liquid hazardous waste removal in the form of vacuum truck services. Each vacuum truck has a max capacity of 13,600 Liters. The following is a list of waste services our vacuum trucks can accomodate:
Hazardous & Liquid Industrial Waste Removal
Sludge Removal
Interceptor Clean Out
Stormceptor Clean Out
Pit Clean Out
Cutting Table Clean Out

Tank Bottom Clean Out
Corrosive Material Removal
Oily Water Removal
Hazardous Dry Bulk Removal
Industrial, Commercial & Institutional Dry Bulk Removal

 
Chemical Waste Recycling
Chemical waste recycling is the most delicate form of hazardous waste recycling, as different chemicals are classified into different waste categories. Click here for an overview of the waste categories that Panda serves.
Can Hazardous Waste Be Sent to the Landfill?
Hazardous waste must always be seperated from standard waste as per provincial and municipal law. Disposing of hazardous waste with standard waste is a serious offense. Certain landfills can accomodate hazardous waste, but many do not. Any waste removal company should know about hazardous waste disposal in your area.
Panda Environmental has our own hazardous waste treatment facility directly on-site. We dispose of hazardous waste in the most environmentally friendly way possible. Click here to contact us today.
Service Area: Cities Served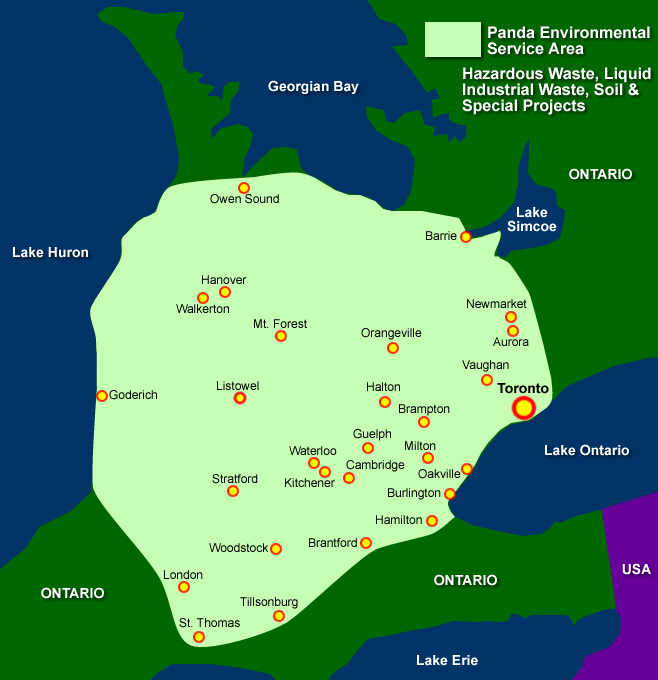 Below is a list of the major cities that Panda provides hazardous waste removal services to. Panda also provides services to small towns and other areas that are not listed below. 
Aurora
Barrie
Brantford
Burlington
Goderich
London
Owen Sound
Walkerton
Many more
See the map to the right for a detail list of our complete service area.
Other Waste Removal Services
Panda also provides a wealth of other waste removal services such as:
Click on any of the above links to learn more about a given service. 
Contact Us
For more information call 1-800-745-4140  or contact us for a quote today. Panda provides scheduled waste removal services.
"I wanted to tell you how much we appreciate your 'pickup' guys.  They are amazing.  The boss actually watched the driver 2 weeks ago…he got out of the truck and straightened the garbage container, picked up a bag that had fallen out in the dumping process and put it in the can, then removed 2 black bags from the recyclables that had been put in there by error (I assume). Never before have we had/seen such amazing service!"
- Karen, Local Auto Business