In this article, we will take a look at the Brantford recycling process.
Panda Environmental has 15+ years of experience, and we are happy to use that experience to help you understand the recycling process in your city - contact us today for more information.
Brantford recycling topics include the schedule for different neighbourhoods, what can and can't be recycled and locations for replacement boxes. Let's take a closer look now!
Brantford Recycling: What Can and Can't be Recycled in Brantford Ontario
Brantford residents must only use City of Brantford approved blue boxes that are between 60 L to 87 L in size to put out recyclable materials. The use of large wheeled recycling containers is not permitted at single-family households. 
Use the "two-sort" method for recycling boxes (or bins in multi-residential units), according to the city's recycling information page:
Containers and cartons
Aerosol cans (empty)

Aluminum foil and pie plates (cleaned)

Cartons and drink boxes (milk cartons, juice boxes)

Glass bottles and jars

Metal paint cans (empty or containing no more than ¼" of dried paint)

Plastic bottles, tubs and jugs

Plastic clamshell containers (no Styrofoam)

Spiral wound cardboard cans

Steel and aluminum cans (pop and food cans)
Paper and cardboard materials
Newspapers and flyers

Magazines and catalogues

Books (softcover and phone books), hardcover books (hard covers removed)

Household paper products (envelopes, writing paper, printer paper)

Boxboard (tissue, cereal, shoe, etc..)

Egg cartons

Tubes and rolls (flatten)

Cardboard boxes (flatten, tied and bundled)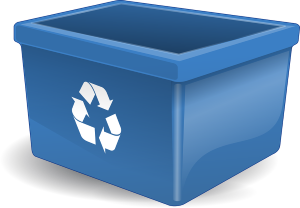 You can download the Recycle Coach app for more information on what goes where
Brantford Recycling Schedule
All recyclable materials should be set out at the curb for collection by 7:00 a.m. on your scheduled collection day, and not before 7:00 p.m. the night before.
Find out when your recycling will be picked up by clicking on the image below and typing in your address: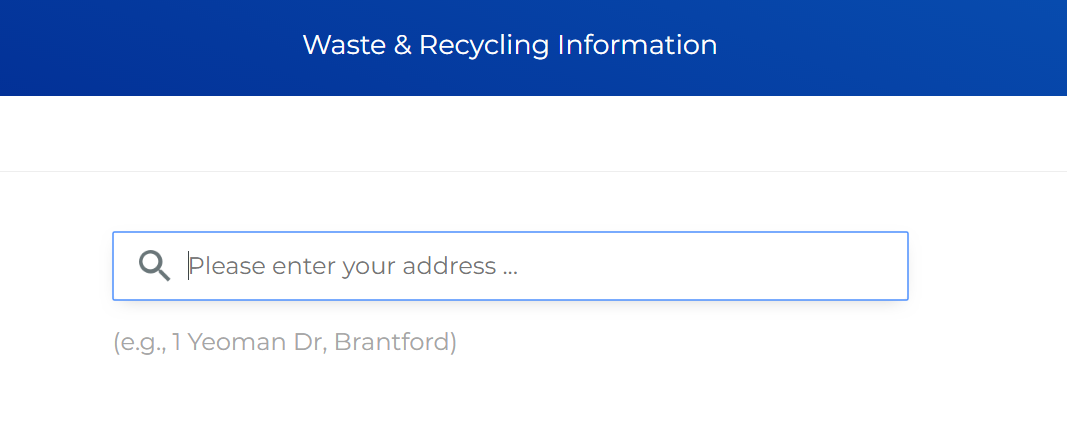 (Source: https://app.my-waste.mobi/api/plugin/CA/ON/Brantford?clearCache)
Collection occurs on all statutory holidays except Christmas Day and New Year's Day, in which case, collection will occur one day later
Where to Get Replacement Brantford Recycling Boxes
Brantford provides new or replacement blue boxes to residents at no cost - as needed and at the discretion of the City of Brantford.
There is a limit of one replacement blue box per address per year if boxes are broken, or missing from the curb. Proof of residency may be required.
Broken blue boxes can only be taken to the Mohawk Street Landfill Site to be disposed of free of charge.
Replacement blue box locations, addresses and pick up hours:
Location

Address

Hours

Mohawk Landfill Site

Monday to Saturday, 8 a.m. to 5 p.m.

Tourism Centre

May 15 to September 30:
Monday to Friday, 9 a.m. to 6 p.m.;
Saturday 10 a.m. to 6 p.m.;
Sunday, 10 a.m. to 5 pm.
October 1 to May 14: 
Monday to Friday, 9 a.m. to 5 p.m.;
Saturday 10 a.m. to 4 p.m.

Public Works Counter

Monday to Friday, 8:30 a.m. to 4:30 p.m. (closed holidays)
Brantford Recycling Tips
Here are a few helpful tips from the City of Brantford:
No plastic bags
Do not bag your recyclables. Leave items loose and empty in your recycling bins.
Cardboard boxes
Flatten and tie large cardboard boxes into bundles no larger than 75 cm x 75 cm x 20 cm (30" x 30" x 8") and place securely beside or between your blue boxes.
Windy days
Follow these steps to prevent litter in your neighbourhood on windy days:
Put your waste at the curb by 7:00 a.m. the morning of your collection day, instead of the night before

Stack blue boxes by placing heavier items on top of loose papers

Fill boxboard boxes with other boxboard material

Don't overfill blue boxes with loose materials

Put garbage bags on the curb instead of garbage cans; garbage cans are more likely to blow around.
Recycling may seem like a hassle but it is an important task. Consider the following: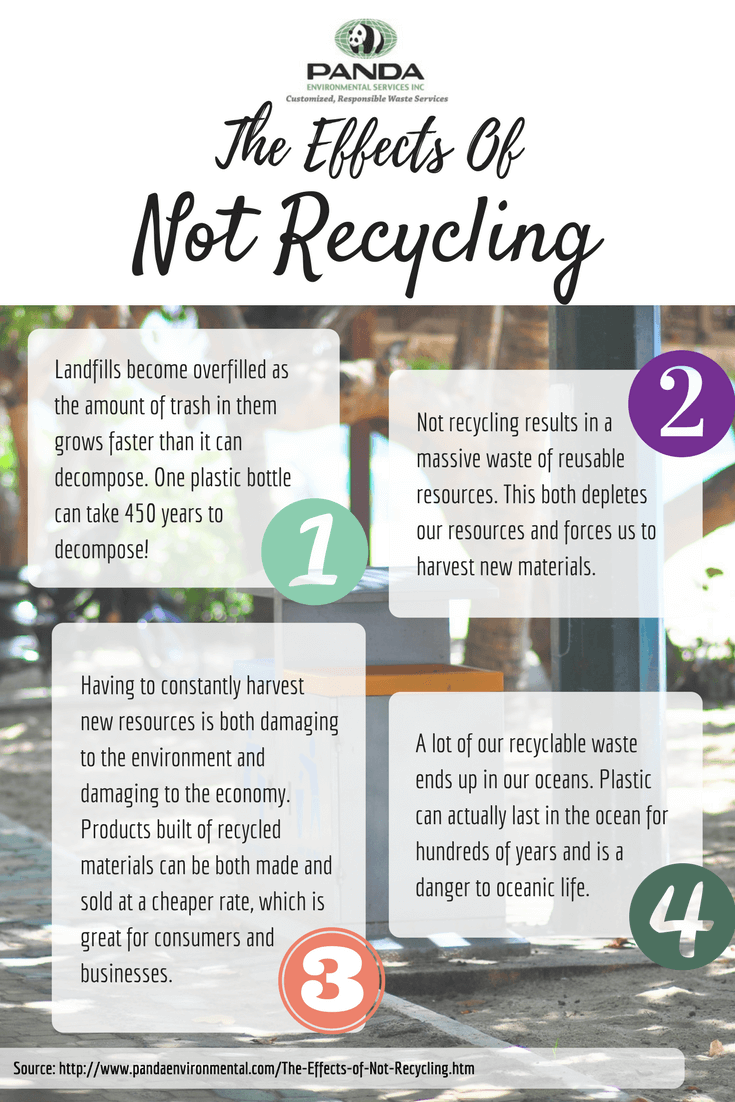 How Panda Environmental Can Help
If you are a business manager or commercial property owner, you need help with Brantford recycling as the city won't come to your building to pick it up.
There's where we come in and offer the following:
This helps make recycling faster and easier for your whole team.  Simply put your paper, plastics, glass, and metals in the same collection container and watch participation rates skyrocket when people don't have to worry about sorting their recyclables! 
Get a free quote today! Learn more
Benefits of Single Stream Recycling :
Reducing time and effort may mean more recyclables are placed into recycling stations.

Reduces collection costs.

Single Stream recycling may provide an opportunity to update the collection and processing system. It may also add new materials to the list of recyclables accepted.
Panda Environmental encourages the use of composting and the diversion of organic waste from landfills in order to better the environment. This process also can save money. Learn more
Currently, Panda is working with clients to divert:
Glass

Cardboard

Paper

Cans

Scrap Metal

Scrap Wood

Specific Plastic *

Fluorescent Tubes

Batteries

Mercury based Items

Light Bulbs

Composting

Panda offers a variety of services, from helping our clients recognize different materials that can be recycled, to helping set up sorting stations throughout the facility. A waste audit may also be beneficial to help recognize the different streams that can be diverted from landfills as well as a forecast of how much can be diverted annually.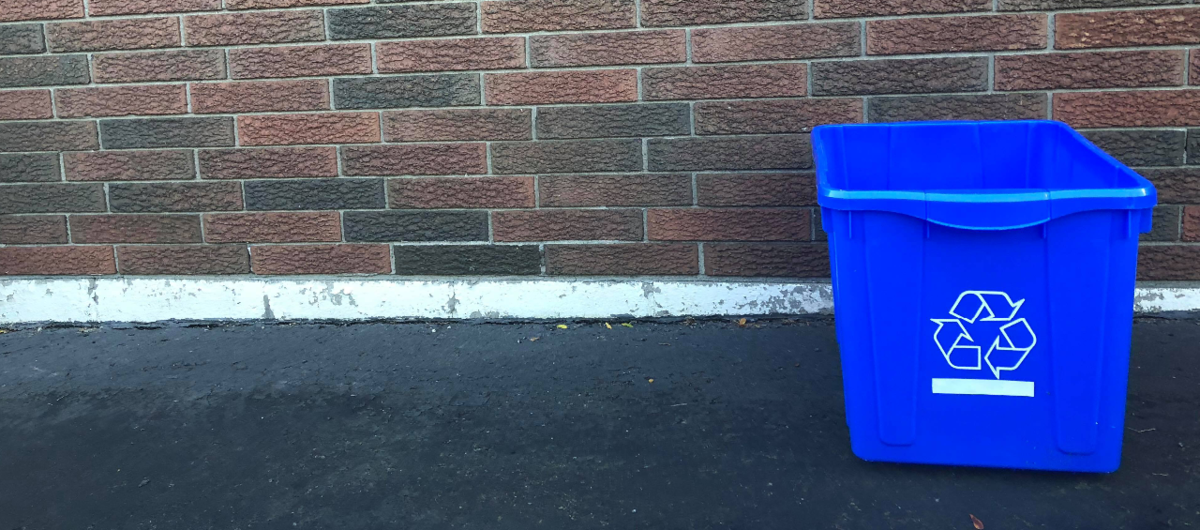 Please see our consulting services for more information
Trust Panda for Effective Brantford Recycling
Panda Environmental has been a leader in responsible waste management and recycling solutions across Ontario for over 15 years. We are able to service all of your business' waste and recycling handling needs, including hazardous waste. For a full list of our service areas, you can click here.
"Hands down some of the best customer service I have ever experienced. Panda has not only provided a better value to our business, but has done it all with a smile and sincere willingness to help us out. If you are looking for a new waste partner, you will not be disappointed by Brent and the team at Panda!"
- Dylan Dunstall
Read more customer reviews here