Your Guide to Vacuum Truck Services in Kitchener-Waterloo

Does your business need vacuum truck services? Aside from the traditional garbage truck that you may see on a weekly basis, there are other waste management trucks that your business may benefit from using! The vacuum truck is a versatile, heavy-duty truck that helps with hazardous waste disposal. This article will provide more information about vacuum truck services in Kitcher-Waterloo, including the industries that may need vacuum truck services, the benefits, and more. If you would like to learn more about vacuum trucks or other waste management services, contact the experts at Panda now!
Looking for vacuum truck services in Kitchener-Waterloo?

What Can Vacuum Trucks Be Used For?


Vacuum trucks help with the removal, transportation, and disposal of hazardous waste
Vacuum trucks are large trucks used for a variety of hazardous waste removal and disposal tasks. Vacuum trucks are used to pump out hazardous and liquid waste from places such as septic tanks or basins. They are often used in the industrial sector, as well as for residential and commercial sewage and other hazardous waste disposal. Vacuum trucks can be used for a wide variety of purposes, including: 
Hazardous & Liquid Industrial Waste Removal
Sludge Removal
Interceptor Clean Out
Stormceptor Clean Out
Pit Clean Out
Cutting Table Clean Out
Tank Bottom Clean Out
Corrosive Material Removal*
Oily Water Removal
Hazardous Dry Bulk Removal
Industrial, Commercial & Institutional Dry Bulk Removal
Industries that may need to use vacuum trucks on a regular basis include chemical plants, shipyards, oil refineries and energy plants, steel or aluminum plants, and many other types of industrial companies. If you're wondering what a vacuum truck looks like in action, check out this ride along video below!
At Panda Environmental, our Vacuum Trucks have a minimum 13,600-litre volume capacity and the ability to high dump. Panda is a turn-key service provider and can provide exceptional service for a variety of waste removal projects. We always work efficiently so your projects are finished safely,  at the right time, and on budget. 
What Are The Benefits Of Using a Vacuum Truck Service? 


Vacuuming out tanks with Panda's Vacuum Truck
There are many benefits of using a vacuum truck service to help with your hazardous waste removal. See the top three points below to learn more. 
1. Vacuum trucks do the work efficiently 
Vacuum trucks are specially designed to be able to efficiently and effectively remove waste - from sludge to sewage to various types of industrial hazardous waste. Dealing with hazardous waste is, of course, a potentially dangerous job. Vacuum trucks ensure that work is done in an efficient way so you can sit back and watch as all the work is done for you.
Vacuum trucks not only remove waste, but they also transport and dispose of it. This helps remove any additional steps you may need to set up - the vacuum truck and waste management expert can get every step of the process done. Because of their unique and special design, vacuum trucks can efficiently transport hazardous waste and then safely dispose of it at the proper location. 
2. Vacuum trucks help save you time
As mentioned above, vacuum trucks can do all the work, from collection to transportation to eventual disposal. Because of that, you can focus on working with one waste management company instead of finding the time to schedule in multiple contacts and arrange multiple schedules for a single pickup and disposal. When you work with a professional company that provides your vacuum truck, you can also rest assured that they will any provide services you actually need - saving you both time and money. 
3. Vacuum trucks ensure the safe removal of waste 
Hazardous waste, when improperly disposed of, can lead to negative effects on both human health as well as the environment. Vacuum trucks ensure that any type of hazardous waste remains away from people, animals, and prevents it from accidentally seeping into the environment. Vacuum trucks actually help to reduce any environmental impact that industrial and hazardous waste can have on our health and the environment - making them the perfect choice for the environmentally-conscious company. 
Hazardous Waste Removal & Vacuum Truck Services in Kitchener-Waterloo
Panda has three types of vehicles that we use to move hazardous waste: Drum Trucks, Vacuum Trucks and Roll Off Trucks. Contact us to learn more about which truck and services are right for you and your company!
| | | |
| --- | --- | --- |
| | | |
| Drum Truck | Vacuum Truck | Roll Off Truck |
When it comes to any type of hazardous waste, there is only one option when looking to dispose of hazardous materials - and that option is to dispose of the waste in a safe and environmentally friendly manner. Improper collection, transportation, and disposal of hazardous materials can result in severe environmental damage with long-term consequences, and risks to human health.
Working with a company that a waste management company that offers hazardous waste removal can ensure you keep others and the environment safe. Panda Environmental owns and operates a designated hazardous waste processing facility, to ensure everyone, as well as the environment, is protected from potential hazards. This facility allows us to offer our customers the best service and the best rates when it comes to hazardous waste disposal. 
Are you ready to learn more about hazardous waste? 

Let Panda Help You With Your Waste Management Needs Today!
Finding the right waste management company for you and your specific needs can be a challenge. At Panda, we work with our customers to help them find a waste disposal package that works for them!
Work with Panda today and you will work with a waste management company that cares about recycling and the environment. Panda Environmental has strived to be a leader in responsible waste management and recycling solutions across Ontario for over 15 years.
We are able to service all of your business' waste and recycling handling needs, including hazardous waste. For a full list of our service areas, click here. 
Click here for a list of all of the waste management and recycling solutions that we provide.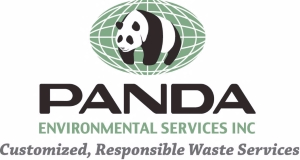 "Very good service, using PANDA for years and all I can say they are the best in the region.
Brant the sales rep is amazing guy to deal with."

- Robert, read more Google Reviews here!

Contact Us Today!
Toll-Free: 1-877-745-4140