If you think about it, garbage bags play a large role in many Canadian's lives. An unexpected broken garbage bag on your garbage pickup day can quickly become a headache! Though most garbage bags may look the same, they are not all made the same. Based on customer reviews and product information, we've created a listing of the best 4 garbage bags to help you choose a great brand: Glad, Kirkland, Hefty, and Green Legacy. We'll list their pros and cons as well as provide detailed descriptions of each. Switching to a great brand can help save you from spilled garbage and last-minute cleanups. To learn more information about recycling, garbage pickups, and waste management in your area, contact the experts at Panda now! 
Want to learn more about waste management? 

Why Do We Use Garbage Bags?
Garbage bags are most commonly used to line garbage bins and are brought to the curb during garbage disposal. Without garbage bags, garbage removal could become a lot more complicated (however, some homeowners are trying plastic-free methods!) When shopping, you will see that most plastic garbage bags are black - however, some varieties come in white. Garbage bags help protect garbage bins from becoming contaminated with garbage. They are especially useful for containing wet garbage and they help to keep garbage containers sanitary.
What's The Best Garbage Bag? A Look At Four Brands
Check out the video below and watch as two consumers conduct a 'water test' on a variety of garbage bag brands. 
Every individual and household has specific needs, preferences, and budgets. There is not a "one size fits all" garbage bag solution that works for everyone. As we see in the video above, a new brand or store brand may surprise you! However, based on reviews and even scientific garbage bag tests, we have compiled a listing of the four best garbage bags available on the market so you can make an informed decision when purchasing your next garbage bags! 
#1 - Glad Brand - Tall Kitchen Bags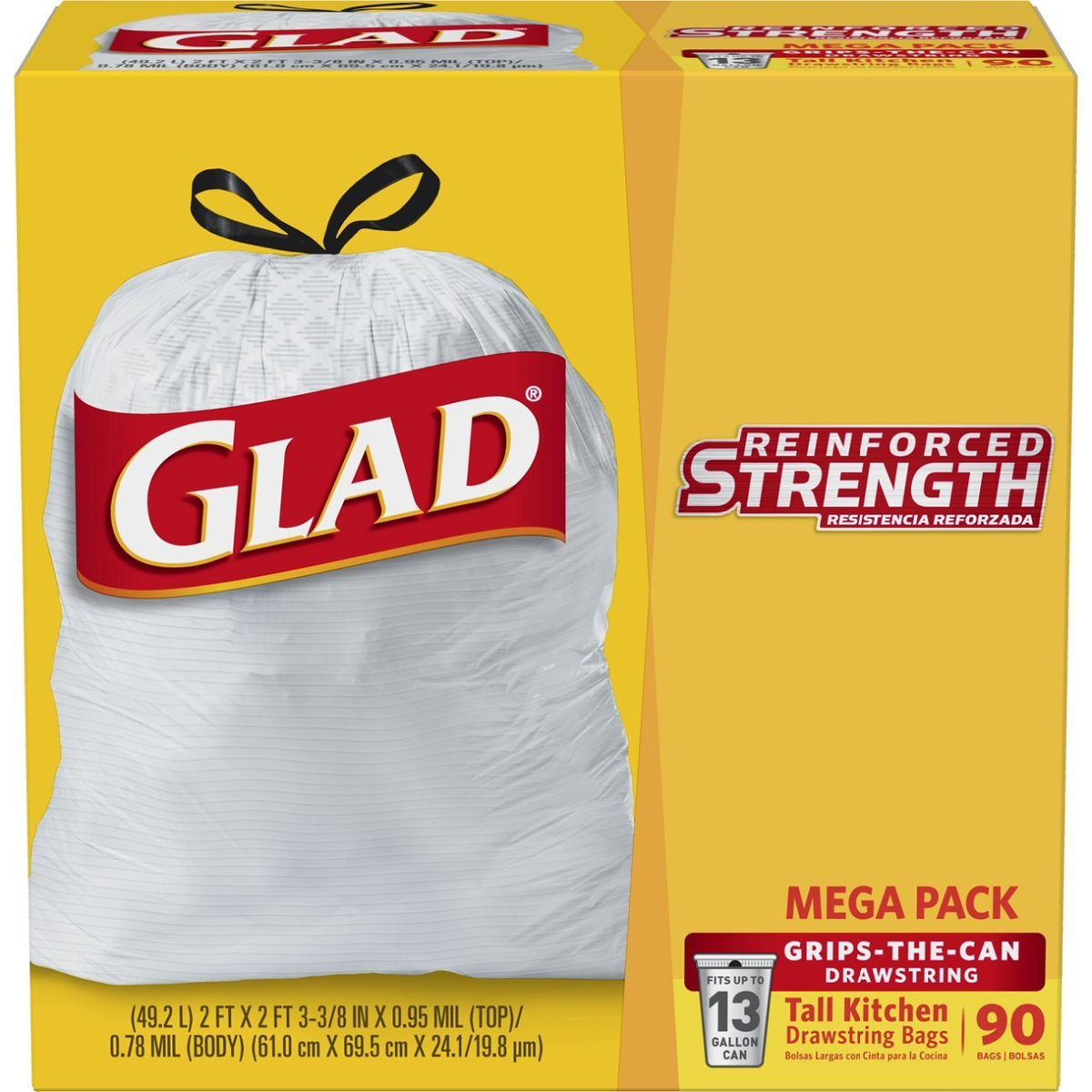 Image source: Amazon.com
Biggest Pros: Strong, durable, reduced leaks, widely available online and in stores, comes in a variety of sizes, even when punctured that bags usually do not tear
Biggest Cons: Can be costly, the scent on bags can cause reactions to those with chemical sensitivities (even unscented bags have potentially caused consumer reactions) 
The Glad brand Tall Kitchen Drawstring Bags (Reinforced Strength) are ranked #1 trash bag on numerous sites, including Consumer Reports, WiseBread, and Wirecutter. On Amazon, the Tall Kitchen Drawstring Bags have highly favourable reviews on Amazon. The overall design of the garbage bag makes garbage pickup days easier for consumers. The drawstring allows for easy removal without worry of spilling over the sides. The bag itself is stronger and more durable than most competing brands, reducing the risk of breaks or leaks while bringing your garbage out to the curb. 
Glad also has other similar products that are known for their strength and durability. For example, the ForceFlex Drawstring Tall Kitchen Trash Bags (Unscented) was ranked #1 out of 10 products on Top Guide Pro. These bags also have 4/5 stars on Amazon.com with over 500 customer reviews! The Glad Tall Kitchen Bags vary in price depending on the strength (ForceFlex are costlier than the Drawstring bags). 
#2 - Kirkland Signature Drawstring Bags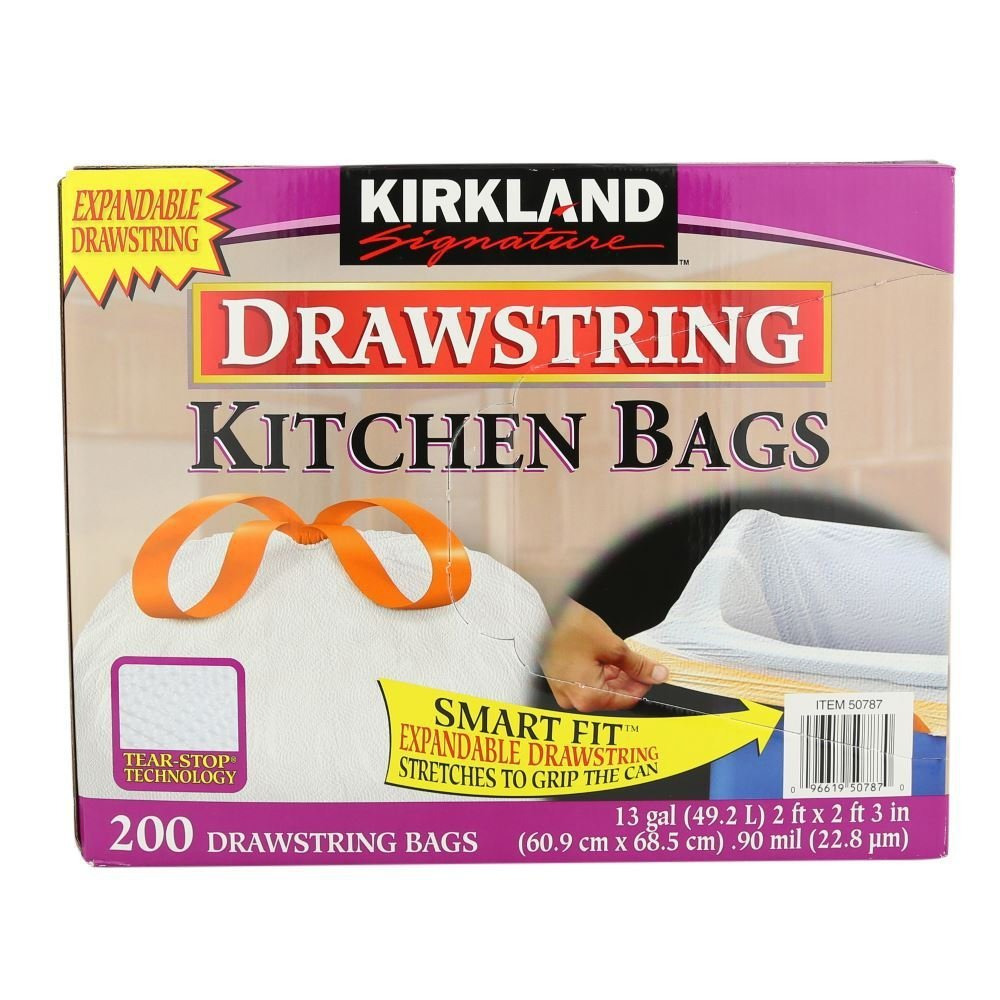 Image source: Amazon.com
Biggest Pros: Very low price and great value, high quality, great durability, many favourable customer reviews
Biggest Cons: Only available at Costco or select stores and online, some users found the bags were too wide for their bins
With Kirkland Signature Drawstring Bags, you will definitely receive the most value for your dollar. For approximately $40.00, you get 200 bags! That price is just not comparable to any other garbage bag. Though you may be skeptical about good deals, Kirkland Signature Drawstring Bags have highly favourable reviews. Most consumers say they are comparable in strength and usability to their competitors. 
These bags have over 1,500 reviews on Amazon.com and sit at 4.5/5 stars. They are also rated well on review sites such as WiseBread and Viewpoints.com. If you are looking for the most bang for your buck, Kirkland brand seems to beat out its competitors. They are also known for their strength and ability to withstand tears and leaks. 
#3 - Hefty Brand Ultra Strong Bags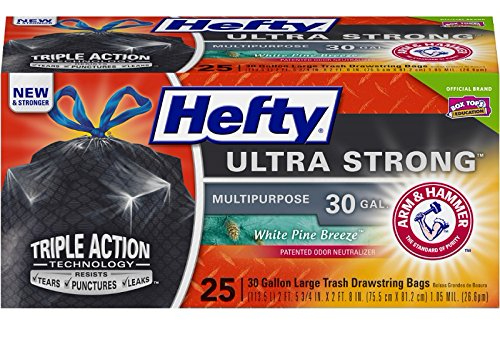 Image source: Amazon.com
Biggest Pros: Expandable strength, puncture resistant technology, drawstring for easy removal, great for outdoor use 
Biggest Cons: Some consumers had problems with the strength of the bags, some found the scented bags unpleasant 
The Hefty brand Ultra Strong Bags are often highly rated on review sites (see WiseBread and Top Pro Guide). These bags are known for their ability to hold sharper objects without tearing or breaking the bag. That makes Hefty bags ideal for outdoor work, as many use these bags to contain leaves or sticks while working on outdoor or landscaping projects. 
The Hefty Ultra Strong bags are rated 4.7/5 stars based on 30 reviews on Amazon.com. Most customers were pleased with the bags strength and found that the bags worked as advertised. They are strong, contain a drawstring to help with removal and avoid leaks, and are large enough to fill almost any sized garbage bin. Many consumers also like the scent, though others with sensitivities do not. 
#4 - Green Legacy Tall Kitchen Trash Bags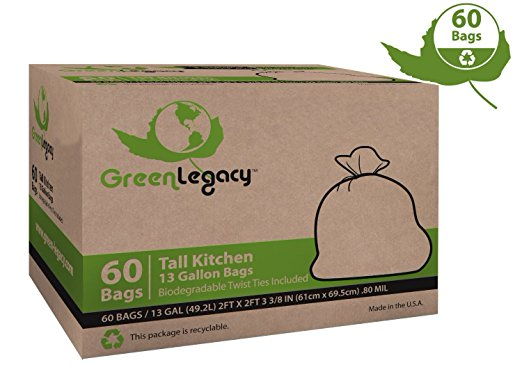 Image source: Amazon.com
Biggest Pros: A more environmentally friendly option, affordable, not scented - great for allergies, strong and durable  
Biggest Cons: Some consumers did not realize the bags themselves are not biodegradable and used the bags incorrectly, not as strong as other options
The Green Legacy Brand Tall Kitchen Trash Bags are great for those looking to make more environmentally friendly lifestyle choices. While the bags themselves are not biodegradable (as some consumers felt confused or misled by packaging), the box is made from 100% recycled paper and is 100% recyclable. The twist ties are also biodegradable. The bags are made from recycled plastic. Though greener products are often found to be more expensive, the Green Legacy Brand bags are affordable and only cost 17 cents per bag. 
These bags have generally favourable reviews on sites such as WiseBread, and Ten Best Product. On Amazon.com, the Green Legacy bags have over 800 reviews and 3.3/5 stars. It appears most of the negative reviews are from consumers who bought the bags thinking they are compostable or biodegradable (they are not.) However, the bags still received many favourable reviews. Many consumers found that the bags were just as strong and durable as their competitors. Other users were relieved to find a truly non-scented bag that did not irritate their allergies. 
So, which brand should I buy?
There are pros and cons to every brand listed above (and to those we didn't list too!) Remember that although reviews give you a good idea of the strength, usability, and durability of bags, the best bag for you and your household will always come down to personal preference. For example, if you are working towards a greener household, you may choose Green Legacy over Glad - even if the bags are just not as strong. Or if you do a lot of gardening work and need a bag that can withstand significant tearing, you may choose Hefty or Glad over other brands. It's best to weigh the pros and cons and look at your lifestyle to help you choose the right bags for you and all of your needs!
Let Panda Help You With Your Waste Management Needs!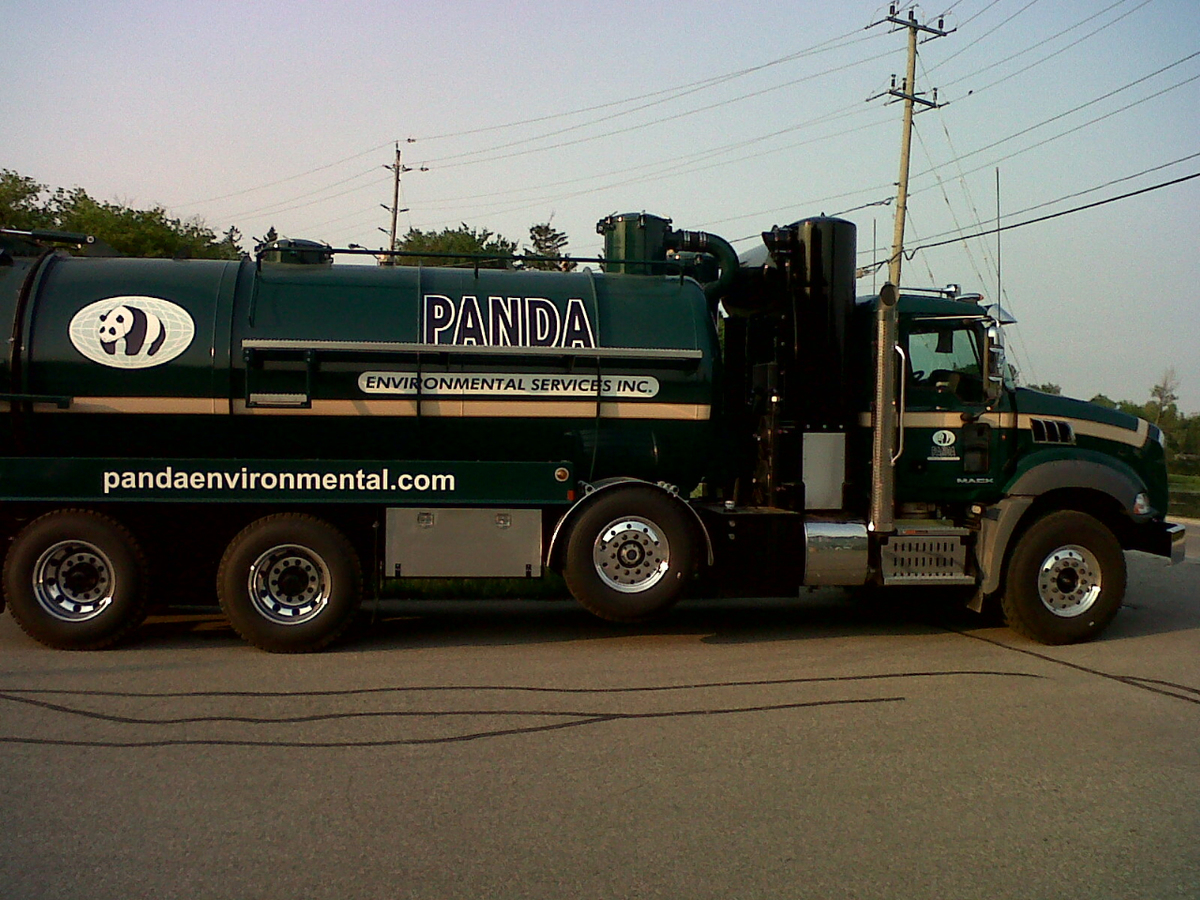 Looking for waste management solutions? Finding the right waste management company for you and your specific needs can be a challenge. At Panda, we work with our customers to help them find a waste disposal package that works for them!
Work with Panda today to work with a waste management company that cares about recycling and the environment. Panda Environmental has strived to be a leader in the responsible waste management and recycling solutions across Ontario for over 15 years.
We are able to service all of your business' waste and recycling handling needs, including hazardous waste. For a full list of our service areas, click here. 
Click here for a list of all of the waste management and recycling solutions that we provide.
"Very good service, using PANDA for years and all I can say they are the best in the region.
Brant the sales rep is amazing guy to deal with."

- Robert, read more Google Reviews here!

Contact Us Today!
Toll-Free: 1-877-745-4140