What Is Roll Off Collection?
Have you ever heard the term "roll off collection" and wondered what it meant exactly? Read on as we explain everything you need to know about roll off collection for your business. We will discuss what roll off collection actually is, who would need to use this service, what types of materials are included, if you need your own container, how much it costs, and what locations can access this service. If you are in need of roll off waste collection services, contact Panda Environmental. We will customize a service that is right for you, when you need it and how often you require it.

What Is Roll Off Collection?
Roll off is a term used in waste and recycling collection to refer to the way in which the waste collection container comes off the truck. It literally rolls off the back. A roll off container is usually a rectangular shaped bin or dumpster with wheels to help move it easily in place. Roll off containers are specially designed to contain loads of construction, demolition or other waste materials.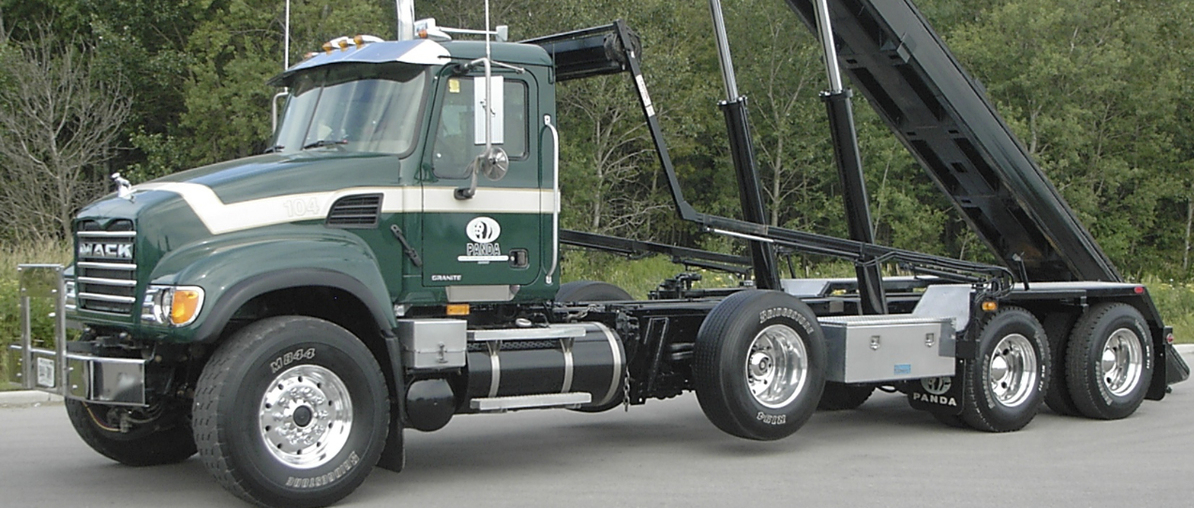 Who Needs Roll Off Services?
Roll off collection services are needed by clients who are dealing with large amounts of waste, anywhere from 10 to 50 cubic yards per pickup. These would include customers such as:
Construction and Demolition Companies
Large Commercial and Industrial Companies
Companies Dealing With Environmental Remediation Programs
Do I Need My Own Container?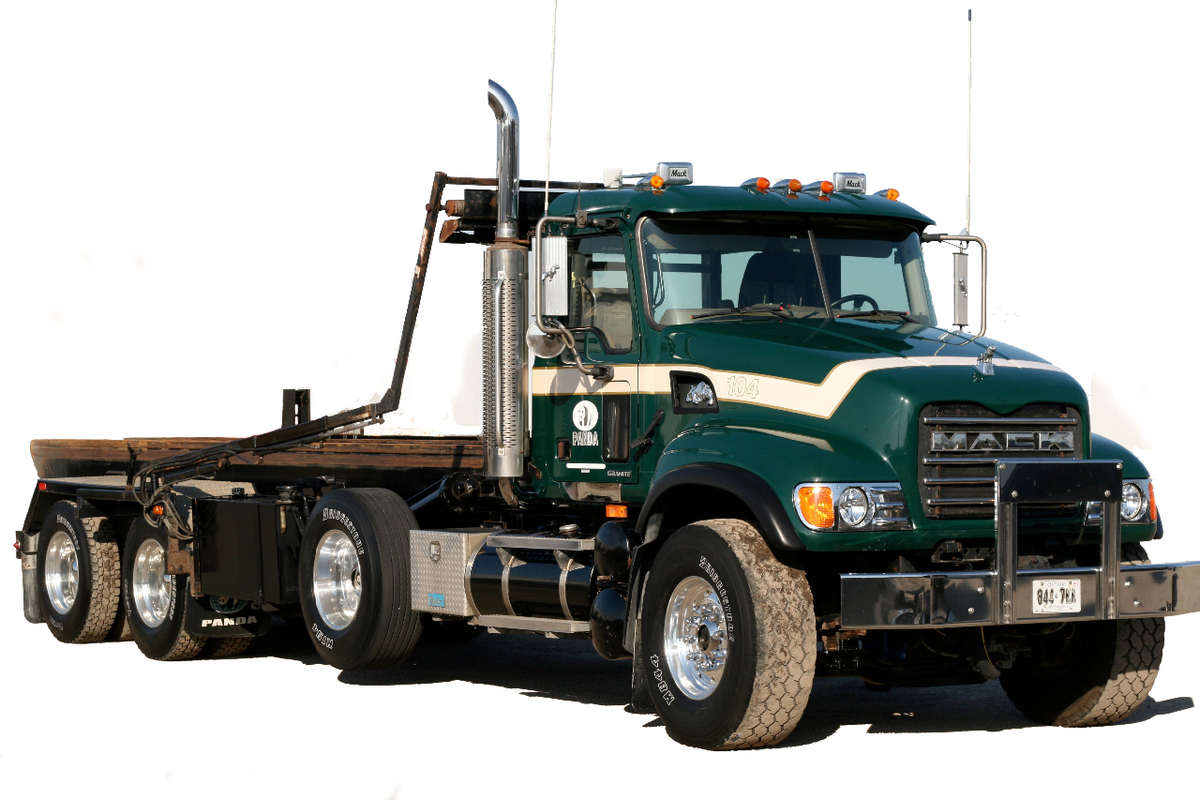 No. Panda Environmental Services Inc. will provide you with one our own containers. You do not need to have your own. We strive to make waste collection as easy as possible for our customers.
What Sizes Of Containers Are Available?
We have sizes to meet any large waste removal requirements. Panda Environmental has containers including 10, 14, 20, 30, 40 and even 50 cubic yard sizes. No matter how much or how little waste you have, we have a container size to accommodate your needs.
Do I Need To Maintain The Container?
No. We take the hassle out of waste removal. Panda Environmental will perform any and all necessary maintenance on all of our containers. Panda understands how valuable your time is, so we do our best to take care of all of the fine details so you don't have to worry about them.
What If I Have a Smaller Amount Of Waste?
If you have a smaller amount of waste than what a roll off service covers don't worry. Panda can also provide a comprehensive Front End service if you have lower volumes of waste. To find out more about our Front-End service, click here.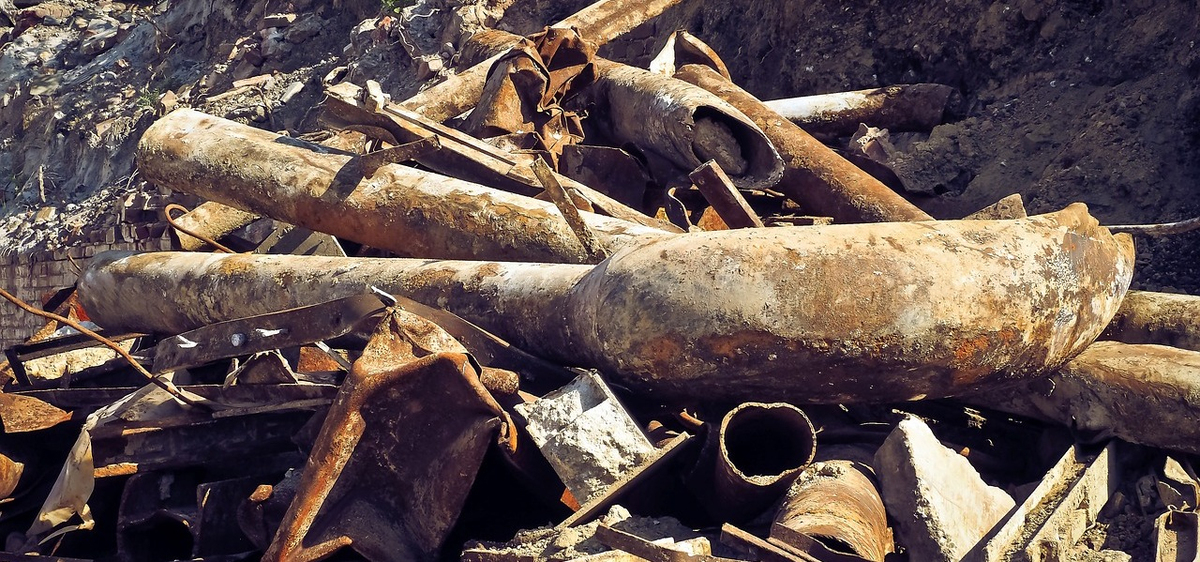 What Types of Materials Can Be Removed With The Roll Off Service?
Panda's roll off collection service covers a wide range of waste streams such as:
    Solid Waste Removal
    Specific Plastic Recycling
    Wood Recycling
    Cardboard Recycling
    Scrap Metal Recycling
    Compactor Services
    Clean Fill Removal
    Impacted Soil Removal
    Asbestos Material Removal (See also Hazardous Waste Removal)
    Construction / Demolition Waste Streaming & Removal
How Much Does The Roll Off Service Cost?
Our comprehensive roll off service is competitively priced. Contact us today to receive a free estimate by either calling us at 1-877-745-4140clicking here to submit your request online. We are confident that you will be happy with our service and will recommend our services to all of your business associates.
, or

What Locations Does Your Roll Off Service Cover?
Panda's roll off service covers Kitchener, Waterloo, Cambridge, Guelph, Milton, Georgetown, Acton and the surrounding areas. Below is a map outlining our complete service area. Contact us today to set up your customized roll off service, when you need it and as often as you need it. We're here to help.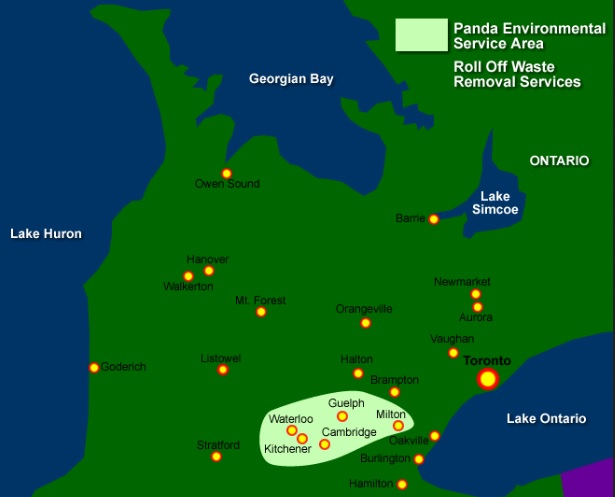 When Can I Schedule A Roll Off Service?
Panda offers a customizable roll off service. This means that you can set up regular scheduled pickup days and times which suit your needs perfectly. We also offer on-demand pickups if you require service in between your regularly scheduled pickup days.
If you require roll off service and would like to schedule it, contact us now by calling us at 1-877-745-4140clicking here to submit your request online.
, or
 If you're interested in more articles like these, check out our article index here.
Panda Environmental
Panda Environmental has strived to be a leader in the responsible waste management and recycling solutions across Ontario for over 15 years. We are able to service all of your business' waste and recycling handling needs, including hazardous waste. For a full list of our service areas, you can click here. Click here for a list of all of the waste management and recycling solutions that we provide.

Contact Us Today!
Toll-Free: 1-877-745-4140