Waste Removal - Top 3 Stories From 2015
Throughout 2015, there were a number of stories related to waste removal that garnered plenty of attention. As we continue to become a more environmentally conscious society, stories on issues such as waste removal and how it is handled have become more prevalent and important to us all. This article will take you through what are in our opinion the top 3 waste removal stories of 2015 to help keep you up to date with new advances in the field.  Panda Environmental has a number of waste removal services to help you to be more environmentally conscious while saving both time and money. Click here to find out more!
"We switched over to Panda Environmental Services after several years with another waste management service and are extremely pleased with our decision. The service has proven reliable in delivery of service, the drivers are careful and courteous, the sales and customer personnel keep in touch to ensure we are satisfied in every way! I highly recommend Panda Environmental Services to any business!"
- John, A Panda Environmental Customer
Click here for more testimonials
U.S EPA Proposes Methane Reduction Plans For Landfills
This article found on solidwastemag.com discusses the proposals put forth from the United States Environmental Protection Agency to help reduce the amount of methane produced by landfills by 2025. According to this article, two proposals were issued and if both pass landfills would begin collecting and controlling landfill gas at emission levels of approximately a third lower than current requirements. So what does this mean? It means that the amount of methane emissions produced by landfills will greatly decrease, estimated at 487,000 tons per year. Given that methane is a dangerous greenhouse gas, working towards reducing the amount of it produced by any means is incredibly important. To read more about this proposal, you can check out the full article here.
The Development of Waste Reduction Apps
In a society that has become somewhat dependant on technology, it's great news to hear that technology and the environment can come together, and in this case, it's done through some incredibly useful and convenient apps. Found on Waste360.com, the article "Four Apps Designed To Reduce Food Waste" focuses on the amount of food waste produced across the U.S. each year and provides you with 4 apps that can help you to reduce the amount of food waste you produce. The U.S. EPA estimates that approximately 30-40% of the food supply in the United States ends up as waste, which is incredibly high and this issue needs much more attention than it's currently garnering. The EPA has called for a 50% reduction in food waste by 2030 and is implementing a number of new programs to make this a reality. They also created an app called FoodKeeper which offers its users information about proper food storage to help maximize the storage life of food. Some of the other food waste reduction apps suggested by Waste360 are Food Cowboy, Waste No Food, and Spoiler Alert. You can check out their full article here. If you're a company interested in learning about how you reduce your waste contact Panda Environmental to learn more about our consulting services. Click here to contact us today!
Toronto's Largest Waste Bins Often Filled With Recyclables
This story hits a little closer to home for us at Panda Environmental, but the lessons learned are applicable throughout a number of regions across North America. According to solidwastemag.com, there was a 3% higher rate of recyclables being placed in large waste bins that are used for solid wastes that are put into landfills. In fact, 77% of all waste found in these extra large bins was material that shouldn't have been there. This could include recyclable material, hazardous waste,  yard waste, organics that could be used for compost and other non-garbage waste. This is a major concern for not just the major city of Toronto but all cities that deploy garbage bins for their residents. While the reasons behind this increase are still being investigated it should be mentioned that both small and medium sized waste bins only contained less than 48% and 33% non-garbage waste which is a significant drop. Initial evidence would suggest that larger bins are a worse option for reducing waste despite their more convenient size. You can check out the full article here.
Panda Environmental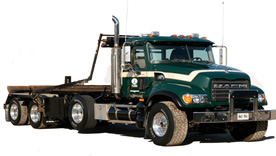 We hope you've enjoyed learning a little more about some of the top stories for waste removal in 2015, now let us tell you a little more about ourselves. Panda Environmental provides full waste removal solutions that keep the customer's interest as a top priority. We work with the customer to provide the best possible service and we are constantly listening to our customers and improving our service as a result. We provide waste removal, recycling, organic waste removal, hazardous waste removal and waste consulting services to businesses across Southern Ontario. We'd love to help you with all of your waste management needs!
1-877-745-4140