Looking for the best waste removal service Kitchener has to offer? Panda Environmental is here for you - contact us today for a free quote for all your solid non-hazardous, hazardous and liquid waste removal needs as well as recycling services.
Waste Removal Service in Kitchener
Weekly Residential Waste Removal
Garbage collection in the City of Kitchener is overseen by the Region of Waterloo, which also covers Waterloo, Cambridge, and surrounding townships -  North Dumfries, Wellesley, Wilmot and Woolwich. 
If you live in a single or semi-detached home, you will have your garbage picked up on a weekly basis. 
The weekly collection includes the following:
To find out when waste removal service in Kitchener affects your street, use the Region's interactive map (shown below). Search for your address at the top of the page, or scroll around the map to find your location. The colour-coded map will then tell you which day of the week your garbage pickup occurs, and how frequently it happens. 
Note: As of March 7, 2017,  the Region of Waterloo no longer provides collection for garbage, recycling, and organics for some townhouse condominiums. This means that the owners of these buildings will now be responsible for their own waste, recycling, and organic removal. Contact Panda for assistance.

Click on this map to find out when your garbage will be collected in the Region of Waterloo.
Household Hazardous Waste
It's important to note that household hazardous waste (HHW) is not included in your regular household pickup. This is to ensure the health and safety of those working in waste collection, as well as the health and safety of your neighbours. You must bring your HHW to one of these drop-off locations for it to properly and safely disposed of:
Note: These locations accept waste that has been generated within Waterloo Region. Waste from other jurisdictions is not allowed. Additionally, a maximum of 25 litres per household per month of HHW can be dropped off at Regional facilities.
HHW includes:
There are fees attached to hazardous waste disposal, and they can add up. You can reduce the amount of hazardous chemicals in your home by using the BUD principle: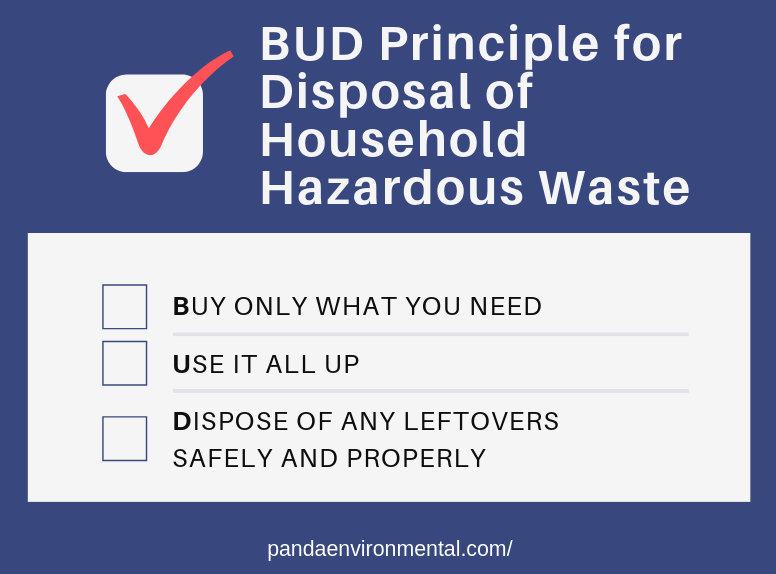 Keep HHW in original containers so it can be safely identified. If not in the original container, you need to write on the container what it contains.
Finally, make sure all containers are sealed and do not leak.

Regular waste removal in Kitchener won't include items that feature these symbols.
Commercial Waste Removal Service in Kitchener
The Region of Waterloo does not provide garbage collection for large dwelling units (ie: apartments and condominiums), businesses or commercial buildings.
If you are a landlord, property manager or business owner, you, therefore, have to hire a private waste management company.
Panda Environmental, for example, provides the following services:
Panda's waste consultants can help you set up a plan for all of the above. They will let you know how your waste removal system can be improved, and give accurate breakdowns of the exact makeup of your waste. Contact us today to set up an appointment.

Panda Environmental is equipped to handle all waste removal in Kitchener and surrounding areas.
Trust Panda For Waste Removal Service in Kitchener!
Panda Environmental offers a wide variety of commercial waste management programs and services. We understand the benefits of proper waste disposal - both at home and in commercial settings. 
Click here to learn more about all of our waste management services in Kitchener and surrounding areas.
Work with Panda today and you will work with a waste management company that cares about recycling and the environment.
Panda has been a leader in responsible waste management and recycling solutions across Ontario since 1997. We are able to service all of your business' waste and recycling handling needs, including hazardous waste. 
"Our condo switched to Panda some years back and we couldn't be happier. Not only are they a third the cost of WM, but, they have great customer service. If something falls from the dumpster our guy gets out of the truck and picks it up! The driver has helped me out twice by doing an extra lift when my basement flooded! You won't get better service anywhere."

- Peter Zitars

Read more customer reviews here.