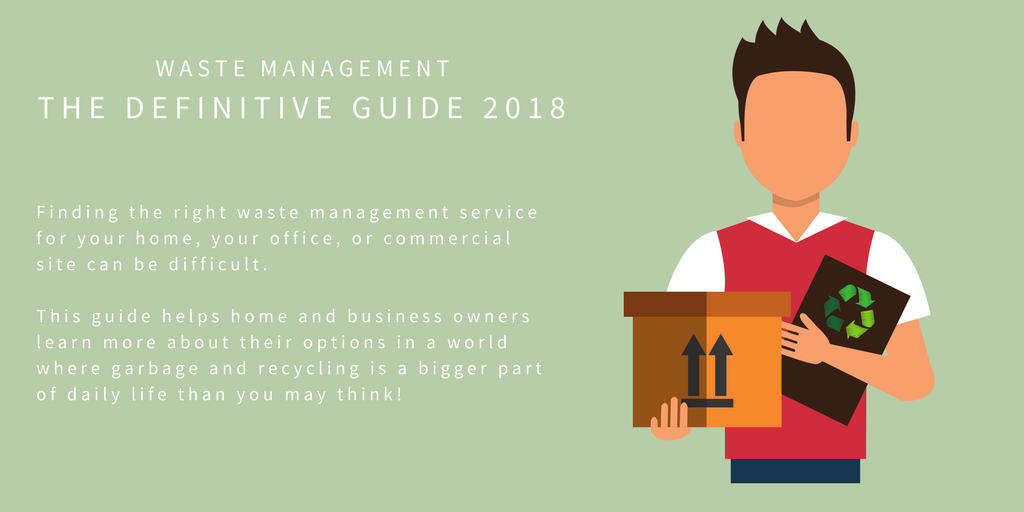 Waste Management: The Definitive Guide 2018
Finding a waste management service that's right for you, your home, or your office can be a challenge. In order to find which waste management services best suit your needs, it's important to have an understanding about all of the essentials regarding waste management. In 2018, there are many services available - and many companies to choose from! This definitive guide will help you understand the most common types of waste management services and service providers you can choose from, the different classifications of waste, waste management strategies, and more! Looking for waste management services in Southern Ontario? Contact Panda today! 
Waste Management Guide: Chapters
Chapter 1: Waste Management Fundamentals
Chapter 2: The Different Classifications Of Waste
Chapter 3: Waste Management Strategies
Chapter 4: Effective Communication Of Waste Management Policies
Chapter 5: Encouraging Proper Waste Management Practices With Employees
Chapter 6: Advanced Waste Management Technologies and Tools
Chapter 7: How To Find High-Quality Waste Management Suppliers
Looking For More Information About Waste Management & Recycling?

Chapter 1: Waste Management Fundamentals

To begin this section, it is important that we define waste management. Waste management is a broad term that encompasses many different occupations and strategies. When we discuss waste management in the broad sense, we are referring to the collection, disposal, and transportation or various types of waste including garbage and other waste products. There are many different types of waste management, which we will further outline in Chapter 3: Waste Management Strategies. 
Waste management is not only about disposing of garbage - it also includes the process of recycling used items and turning them into new resources. Waste management is something that can be done on a small scale or a much larger scale. For example, recycling your old plastics and using a compost bin for food scraps is one way that individuals can contribute to personal waste management. When a garbage truck collects your curbside garbage or removes recycling and waste from your office, that is also waste management done on a broader, commercial scale. 
Chapter 2: The Different Classifications Of Waste

Not all waste is made equally! As you can imagine, there is a big difference between hazardous waste and organic waste. There are different ways to classify waste, but generally, waste is classified into five different categories. In order to have a better understanding of the waste management strategies that may work best for you or your organization, it's important to have a basic understanding about the different types of waste you may be producing. 
Organic Waste
Organic Waste is common in all households as well as most offices and includes food waste, plant and garden waste, and other animal and plant-based materials. Organic waste is often produced in restaurants, during landscaping projects, and even in your office after employees finish their lunch! 
Recyclable Waste
Recyclable waste is also commonly produced in almost all households and offices around Canada. Paper, metal, and some plastics are recyclable. Recyclable products can be used in full or in part to create new materials. If you have recyclable waste, make sure you do not throw it in the garbage! It will end up in a landfill, taking up space.
Hazardous Waste
Hazardous waste is less common and must be disposed of under stricter rules and regulations to ensure the safety of those who may come into contact with it. Hazardous waste includes materials that are toxic, flammable, corrosive, or reactive. Some specific examples of hazardous waste include battery acid, ammonia cleaners, lighter fluid, ant/roach killer, insect sprays, and more. Hazardous waste can harm you and the environment, so it is important that you know what products are considered hazardous, and how to dispose of them in the correct manner.
Solid Waste
Solid waste includes many different products that are solid in form. Some solid waste products, such as some plastics, can also be recycled. Other examples of solid waste include metals, glass, tins, industrial waste (often also hazardous waste), common household waste (often organic waste), and more. As solid waste is more of an umbrella term, it is important to determine if your solid waste has any other properties, such as potential hazards. 
Liquid Waste
Liquid waste includes many different products that are in liquid form. Like most other waste products, liquid waste can be found in your home or commercial property. Like solid waste, liquid waste is more of an umbrella term and many products can be considered liquid waste and organic or hazardous. Some examples of liquid waste include dirty water, stormwater, and more. 
Chapter 3: Waste Management Strategies

There are many different types of waste management strategies that can be employed depending on your particular waste management needs, the amount of waste you or your company produces, and the type of waste you produce. See below for a variety of waste management strategies. Keep in mind that many waste management companies will offer these services and more. Other companies specialize in specific waste management strategies, such as hazardous waste removal.
Waste Removal Services
Waste removal services is really a general term - there are many types of waste removal services that may or may not be offered by your current or prospective waste management company. Waste removal services can include services such as solid waste removal, residential waste removal (in compliance with Canadian laws), construction or demolition, and more. If you have a more specific waste removal concern or question, it's important to ask your waste management company if they can accommodate your needs. Beginning with waste removal is one of the best ways to implement an effective waste management strategy. 
Click here to learn more about Panda's waste removal services!
Hazardous Waste Removal 
Hazardous waste removal is an important waste management service. Hazardous waste services include more than just removing the waste - it also includes properly and safely disposing of the potentially dangerous materials and substances. Some common hazardous waste includes fluorescent tubes and industrial lighting, batteries, liquid industrial waste, and paint. Hazardous waste most commonly comes from commercial properties. However, most households also contain a small number of hazardous products that eventually become hazardous waste, such as cleaning chemicals or fuel. Find out if your waste management company works with both commercial and residential properties if needed.
Click here to learn more about Panda's hazardous waste removal services!
Compost/Organic Recycling 
Food waste can become a big problem in offices if you don't have an organic recycling program or compost. With so many employees eating multiple meals nearly every day of the week, food often ends up in the garbage instead of a compost. That's why many waste management companies also offer compost and organic recycling programs. Food waste decomposes quickly and is easy to recycle when a proper program is in place! Some companies focus exclusively on compost for commercial properties, while other companies offer it within or in addition to other packages and services. At Panda, we work with our customers to ensure we create an organic waste recycling program that meets your business' specific needs. 
Click here to learn more about Panada's compost/organic recycling program.
Dumpster Rentals
Some waste management companies will also offer their own dumpsters for businesses, corporations, or institutions to rent. For periodic waste removal, renting a dumpster is a good economic choice. However, if you need waste removal services on a regular basis, it is often the more economical choice to contact a waste management service and set up a scheduled waste removal plan. Some companies also offer dumpsters for residential use. These programs usually require the waste to be collected in the dumpster by the waste management service and properly disposed of. 
Click here to learn about Panda's dumpster rentals!
Other Waste Management Services 
Every waste management company likely offers a few other specific, lesser-known garbage disposal services such as compactor services, asbestos removal, and scrap metal recycling. If you have a very specific need for your waste management service, don't hesitate to communicate these needs, as they may offer these services along with their more common services. 
Chapter 4: Effective Communication Of Waste Management Policies

Implementing a new waste management policy in your office or company can be a challenge. It's important for all workers to be on board with updated policies. Bringing in new rules or changing routines can take some time to get used to. That's why effectively communicating your company's waste management policy is key.
Before you bring the rest of your team up to date with new policies, it is important that you and/or the individual introducing any new policies fully understands the policy themselves. Work with your waste management company to understand all of the basics. Consider asking the following questions: When is garbage and recycling pickup? How often will you be at our office? What items are recyclable, and which should go into the trash? Does our office have any hazardous waste? How can we ensure our employees stay safe while handling hazardous waste? 
Once you have a good understanding of new policies, it is time to communicate them with the rest of your team. Here are some tips to help the process go smoothly and to ensure everyone in your office is on the same page. 
Explain why the policy is implemented: If your employees are used to throwing all garbage into the same bin and never worrying about recycling, it may come as a shock to ask them to begin sorting all of their waste. Explain the benefits of your new waste management policy (such as environmental benefits or economic benefits) and why it is so important that all employees comply with new rules. 
 
Outline what is expected in detail: Determining if an item should be recycled or thrown in the garbage can be confusing for anyone! Detail what common office items are to be recycled and which ones should be thrown away. Clearly mark your bins and make it easy for employees to follow your new policy.
 
Allow for questions and concerns: Allow workers to voice their questions and concerns. There is a lot of misinformation about waste management and recycling, so it is a good idea to get everyone on the same page about the exact expectations of your new policy. 
Chapter 5: Encouraging Proper Waste Management Practices With Employees

Once you have explained your new workplace waste management policy, you should implement a strategy to ensure everyone in your office follows through with these policies. Here are some ways you can encourage proper waste management practices with your employees. 
Provide specific bins: As mentioned above, providing specific bins that make it easy to decipher garbage, compost, and recycling will make it much easier for employees to choose the right bins. If your employees can't tell the difference between garbage and recycling, they may not realize there is a big difference between what is allowed in each bin!
 
Encourage group effort: For those in the office who are already environmentally-savvy, encourage them to help others with recycling and proper waste management techniques. Put up an encouraging poster and remind your team how correct waste management efforts are not helping your community and the world.
 
Conveniently place bins: Along with making bins easy to differentiate, you should also consider strategically placing your bins to make them easy for employees to access. If everyone has a garbage bin under their desk, and the recycling bin is halfway across the office, some employees may find it easier to just toss paper right into their garbage can. Have recycling bins handy at workstations and ensure compost bins are in the break room. This will help everyone in your office make the right choice. 
 
Be patient: Recycling and correct waste management may come easily for some, but for others, it is a completely new idea. Be patient with workers as they get used to new policies. Encourage recycling and eco-friendly behaviour, but give it some time for others to adopt these policies as their own. 
Chapter 6: Advanced Waste Management Technologies And Tools
As waste and landfills around the world continue to grow, many organizations are trying to find new ways to deal with our world's waste problem. See below for some new and advanced waste management technologies and tools that are used now and may become even more common in the near future!
Anaerobic Digestion
This is a process in which microorganisms break down waste without using any oxygen. This is a common process for industrial waste. Some waste can then be converted in methane or carbon dioxide. 
Gasification 

Gasification is a process that converts organic waste into carbon monoxide, hydrogen, and carbon dioxide. This is done by reacting the waste materials at extremely high temperatures using steam or oxygen. 
Biodrying 
Biodrying is a process in which organic waste is rapidly heated up, removing all moisture. This process takes approximately eight days and can dramatically reduce the weight of organic waste - meaning the waste takes up less space!
Chapter 7: How To Find High-Quality Waste Management Suppliers

Finding a high-quality waste management company for a price that fits your budget can be a bit of a challenge, but it is not impossible! One of the most important things to keep in mind is that the best price does not necessarily mean the lowest price. Seeking out exclusively low prices may cause business owners to overlook important service quality issues. When it comes to waste management, you want to ensure the company you work with is professional, experienced, and knows how to handle all types of waste you produce. Here are some tips for finding the right high-quality company for you: 
Don't hesitate to get multiple quotes - Many companies will provide you with an extensive quote for a great price. The first thing to do when looking for the right company is to get multiple quotes and compare them all. Remember to compare not only the price but also the services offered at that price.

Experience matters - Finding a company with at least a few years of experience will likely help ensure you are getting great quality service for experienced professionals, as well as competitive pricing. Experience helps waste management companies know what fair pricing is. Read reviews - online reviews are more and more popular, and easier to access than ever before. Spend a bit of time researching your potential company.
Check out the Better Business Bureau and Google Reviews to see what other customers have said about their pricing and service quality. 
If you are still stuck after trying the above methods, consider asking your potential company for references from previous and current customers. That will give you an even better understanding of their service, professionalism, and cost for quality. 
Ready To Work With A Waste Management Company Now?
Finding the right waste management company for you and your specific needs can be a challenge. At Panda, we work with our customers to help them find a garbage disposal package that works for them!
When you work with Panda, you work with a waste management company that cares about recycling and the environment. Panda Environmental has strived to be a leader in the responsible waste management and recycling solutions across Ontario for over 20 years.
Work with Panda today and we will be able to service all of your business' waste and recycling handling needs, including hazardous waste! For a full list of our service areas, click here. 
Click here for a list of all of the waste management and recycling solutions that we provide.
"Very good service, using PANDA for years and all I can say they are the best in region.
Brant the sales rep is amazing guy to deal with."

- Robert, read more Google Reviews here!
Sources
2degreesnetwork.com / ottawalife.com / sudbury.ma.us / conserve-energy-future.com