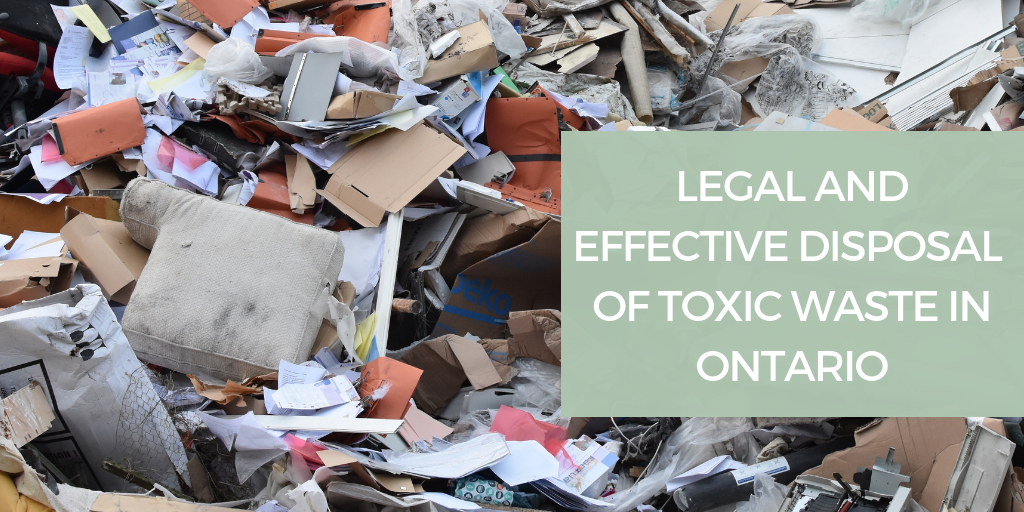 Toxic waste, also called hazardous waste, is all around us. Toxic products are found in households and workplaces across Canada and worldwide - and that list includes some surprising items. Both homeowners and business owners should be aware of what toxic waste is, the potential dangers of these products, and how to safely and legally dispose of it. In this article, we will go over all of those topics so you can keep your home, your work, and yourself safer around potential dangers. To learn more about toxic waste and effective toxic waste disposal, contact the experts at Panda today!
Looking for hazardous waste disposal services in Ontario?

Legal and Effective Disposal of Toxic Waste in Ontario
In Ontario, Regulation 347 under Environmental Protection Act, R.S.O. 1990, c. E.19 outlines the rules and regulations for legal and safe disposal of waste, including hazardous waste. Businesses and companies must ensure their hazardous waste is properly disposed of in order to comply with Ontario law. If you do not follow these laws and illegally dump hazardous waste or dispose of it improperly, you can be charged with a crime.
Household hazardous waste will not be collected with your regular garbage pickup. You must find proper disposal options, such as bringing your waste to a designated drop-off site. Click here to view the City of Toronto's regulations regarding household hazardous waste. 
So, with all of these laws and guidelines, how can you make sure that your waste is safely and effectively disposed of in Ontario? One of the best ways to ensure your company complies with Ontario law is to work with a professional waste management company. A waste management company will know all of the ins and outs of Ontario hazardous waste laws to ensure your company stays compliant with each one. 

A Panda Environmental vacuum truck pumping out hazardous waste
At Panda Environmental, we have a variety of hazardous waste removal services, including drum truck services and vacuum truck services. When you work with Panda, you know you will be working with an experienced company that takes Ontario laws seriously, as well as the safe and effective removal of hazardous waste to help protect you and our environment. 
What Is Toxic Waste?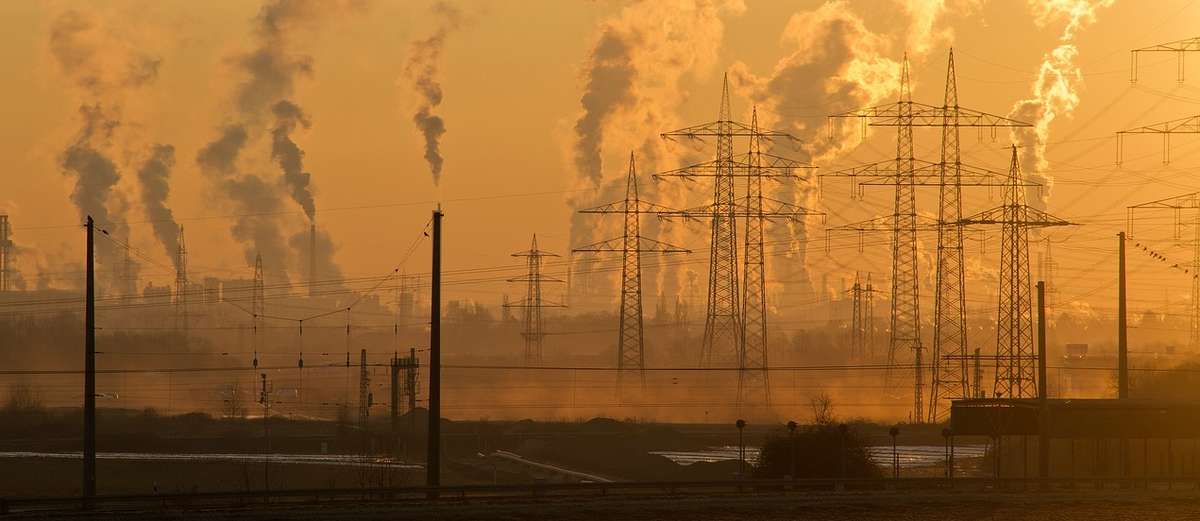 Factories and industrial sites can produce a lot of toxic waste - but so can office buildings, retail stores, and your own household!
Now that you know about toxic waste disposal, you may be wondering just what exactly is classified as 'toxic waste.' If you were to take a brief look around your office or even your kitchen at home, it's likely you will come across dozens of toxic products. Proper disposal is not only important because of government regulations, but also to keep humans and the environment safe.
When we talk about toxic waste, we may also use the term 'hazardous waste.' Toxic waste and hazardous waste are words used interchangeably. National Geographic provides a thorough explanation of what toxic waste is in their article Toxic Waste Facts and Information: 
 
"HAZARDOUS WASTES ARE poisonous byproducts of manufacturing, farming, city septic systems, construction, automotive garages, laboratories, hospitals, and other industries. The waste may be liquid, solid, or sludge and contain chemicals, heavy metals, radiation, dangerous pathogens, or other toxins. Even households generate hazardous waste from items such as batteries, used computer equipment, and leftover paints or pesticides."

- Toxic Waste, NationalGeographic.com
When many people think about toxic/hazardous waste, the first thing that comes to mind is often industrial or medical waste: sludge, sewage, needles, bodily fluids, etc. Those byproducts are qualified as hazardous waste (and medical waste is often biohazardous waste). However, in many workplaces and households, you will not find those products. However, that does not mean you are free from toxic products. It's important to know about the common types of hazardous waste you may find in your home and in workplaces such as offices, retail spaces, educational institutions, etc. 
Check out the listing below from our Household Hazardous Waste article that provides examples of some common products that are classified as hazardous waste:
Household Cleaning Products:

 

Examples: 

Bleach
Ammonia
Drain cleaner
Antibacterial products (disinfectants)
Metal cleaners
Toilet bowl cleaner
Stain removers 
Oven cleaning products

 

Pest Control Products:

 

Examples:

Ant or roach killer
Flea killers & mothballs
Other bug/insect killers
Moss killers
Pesticides
Lice shampoo
Weed killers
Slug/snail poison
Rat poison
Fungicide

Home Improvement: 

 

Examples:

Paint thinner
Household paint
(oil-based, marine bottom) 
Lead-based paint
Spray paint 
Wood preservatives 
Varnish
Lacquer 
Contact cement
Model cement 

Vehicle Products: 

 

Examples:

Antifreeze
Automotive batteries
Automotive fluids
Automotive oils
Engine degreaser
Carburetor cleaner
Motor oil 
Fuels
Gasoline

Common Household Items:

 

Examples:

Nail polish & remover
Hair colouring products & hairspray
Batteries
Shampoo
Thermostats with mercury
Chemistry sets
Artist paint & acrylic paint 
Charcoal 
Fire extinguishers
Other chemicals

Other Household Items:

 

Examples:

Microwaves
Computers
Computer monitors
Televisions
Cell phones
Other electronics
Air conditioners
Smoke detectors
Medicines 
Syringes
What Are The Dangers Of Toxic Waste

Even common household items can cause serious harm to you and the environment
Toxic waste is dangerous for both human health and the environment. The exact effects will vary depending on the product. Some have more obvious effects. For example, some products like rat poison are clearly harmful and we know that it can hurt both humans and animals. With other toxic products, we may not know exactly how or why it is dangerous, like shampoo or microwaves. In the case of products like hair colouring or hairspray, they are clearly safe to use as directed. The problems occur if they seep into the environment. 
Environmental Dangers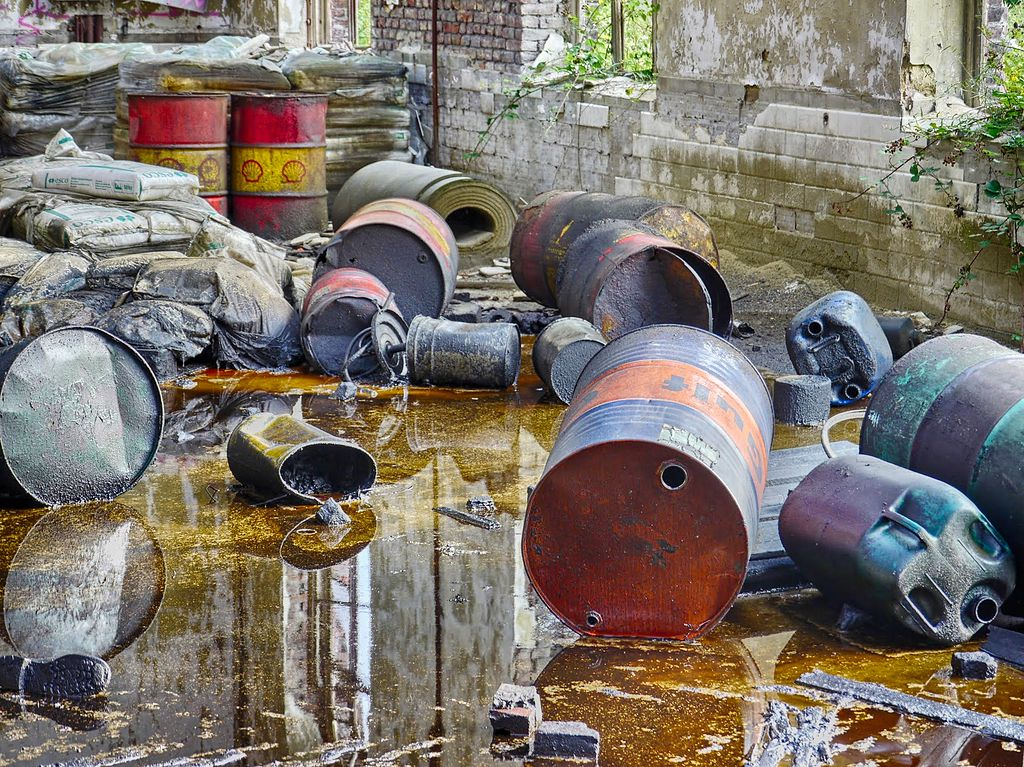 When toxic waste enters the environment, it can come into contact with other toxins or chemicals in the soil or water and create toxic reactions. Sometimes, the chemicals from our products themselves are toxic on their own. These problems can be both short-term (if an animal eats a toxic product) or long-term (if toxins are continuously dumped into the environment). When toxic materials enter our earth, there can be a number of serious problems, such as:
Polluted waters that can cause problems for human consumption as well as harm or kill animals 
Nutrient overload in rivers and waterways that can cause problems for the natural ecosystem 
Smog and air pollution that can cause breathing and respiratory problems 
Animals ingesting toxins and then becoming sick or even entering the food chain 
Plants and animals dying due to toxins and/or water and soil pollution 
Soils can become poisoned and unable to safely produce crops
Image source: business-humanrights.org
Dangers To Human Health
Toxic waste can also have both immediate and long-term effects on human health. When you look at a hazardous product's packaging, it will often warn you of the potential dangers. WHMIS is a helpful tool for knowing which products can cause what type of harm. For example, the well-known skull and crossbones symbol lets consumers know that the product can cause death or toxicity within a short period of time if consumed, even in small amounts. Other products, such as electronics, may not be labelled like this - but that does not mean they are 'safe.' If exposed to toxic products, toxic injury or serious harm could occur: 
Short-term effects (will vary depending on the substance exposed to) such as difficulty breathing, dizziness, fainting, nausea, vomiting, etc.
Long-term effects such as chronic respiratory problems, certain cancers, and other diseases 
 
Keep in mind that all of the environmental dangers overlap with the dangers to our health. The environment is where we get our food and water and everything we need to survive. If plants and animals are poisoned, and waterways are filled with chemicals, that will have a direct impact on our health. 
Protect Our Environment - Partner With Panda Environmental Today!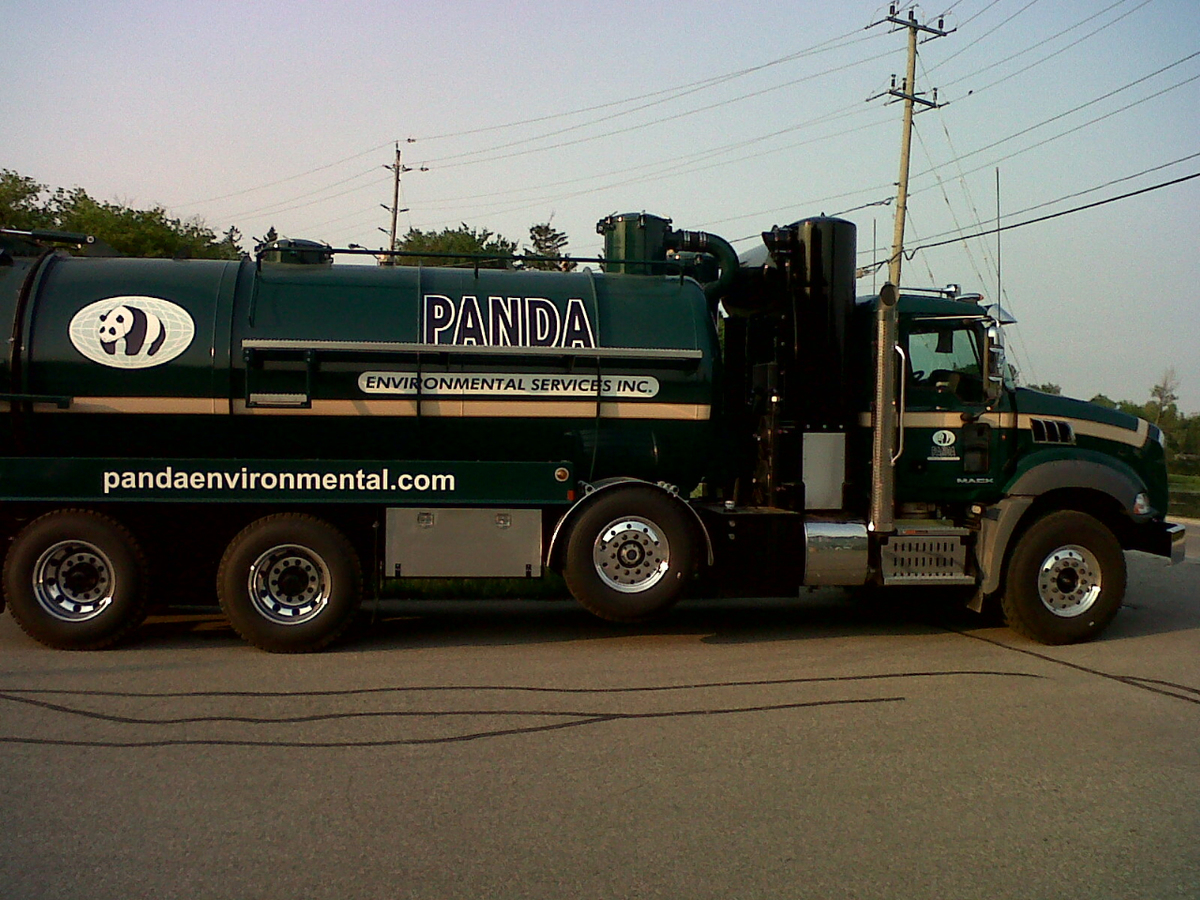 Finding the right waste management company for you and your specific needs can be a challenge.
At Panda, we work with our customers to help them find a waste disposal package that works for them!
Work with Panda today and you will work with a waste management company that cares about recycling and the environment. Panda Environmental has strived to be a leader in the responsible waste management and recycling solutions across Ontario for over 15 years.
We are able to service all of your business' waste and recycling handling needs, including hazardous waste. 
For a full list of our service areas, click here. 
Click here for a list of all of the waste management and recycling solutions that we provide.
"Very good service, using PANDA for years and all I can say they are the best in the region.
Brant the sales rep is amazing guy to deal with."

- Robert, read more Google Reviews here!
Contact Us Today!
Toll-Free: 1-877-745-4140