Hazardous Waste Disposal in the Greater Toronto Area (GTA)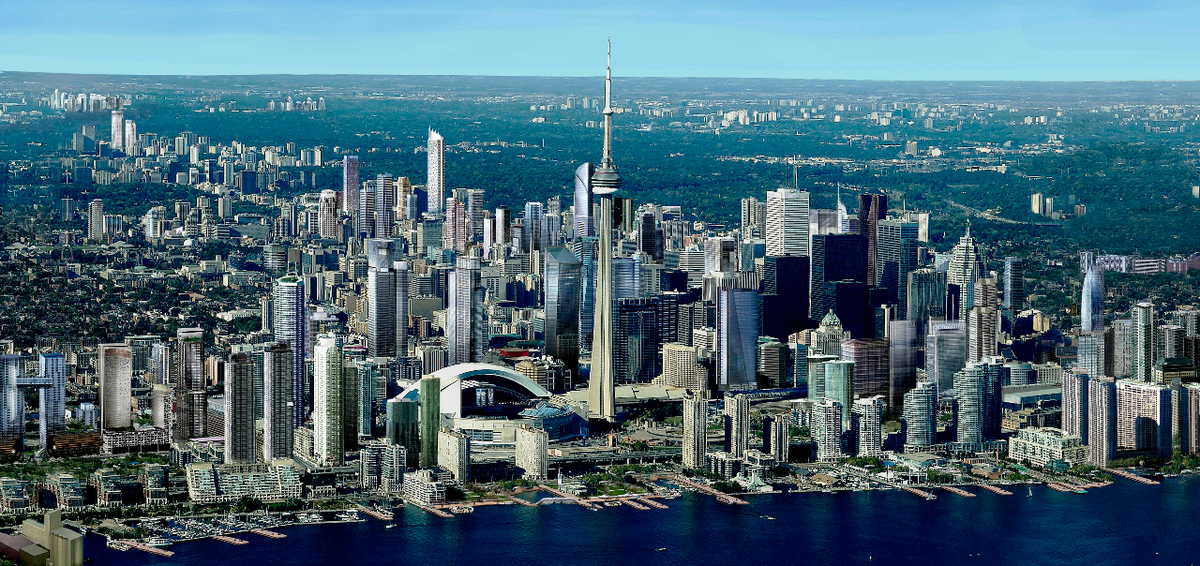 The GTA is one of Canada's leaders in business and industry. From small family businesses to massive corporations, you can find almost any type of industry in our Province's capital. Though it's amazing to have all of these companies creating jobs, products, and services for Canada, it also means that there are a lot of byproducts and waste created which needs to be properly disposed of.  This waste could include hazardous materials such as:
Materials from manufacturing (waste acids, contaminated sludge & chemicals)
Biomedical wastes from hospitals and other health care facilities
Photo-finishing chemicals
Waste pesticides
Polychlorinated biphenyls (PCBs)
Motor Oil
Unused cleaning products from homes
Discarded batteries.
This article will run through some of the hazardous waste solutions we can provide for the GTA, which areas we can service and why it's important to properly dispose of hazardous waste. Click here If you'd like to talk to us about our hazardous waste disposal solutions!
Hazardous Waste Solutions
At Panda Environmental Services, we pride ourselves on being able to provide the highest quality of hazardous waste disposal solutions. Whether it's the removal of large or small volumes of bulk liquids or dry bulk materials, we are able to provide some of the best and environmentally friendly service in the GTA. Below are some of the services Panda can provide:
Drum Truck Service

Using our drum truck service provides our customers with an alternative to pumping out material from drums or totes. We can complete lab-packing and small containment pick-up requirements for you as well. Here are some of the types of hazardous wastes that apply to our drum truck service:
Hazardous & Liquid Industrial Waste Removal
Drum Removal
Tote Removal
Lab-packing Services
Paint & Sludge Removal

Waste Glycol and Oil Removal
Electronic Waste Recycling
Fluorescent Tube & Industrial Lighting Recycling
Battery Pick-up for Recycling
Call us at 1-877-745-4140 for an estimate today or contact us for a quote.
Vacuum Truck Services

Our vacuum truck services are optimal for the collection of liquid or dry bulk waste.  These trucks have a 13,600-litre volume capacity and have the ability to high-dump. Here's a list of some of the hazardous waste disposal services that apply to our vacuum truck services:
Hazardous & Liquid Industrial Waste Removal
Sludge Removal
Interceptor Clean Out
Stormceptor Clean Out
Pit Clean Out
Cutting Table Clean Out

Tank Bottom Clean Out
Corrosive Material Removal
Oily Water Removal
Hazardous Dry Bulk Removal
Industrial, Commercial & Institutional Dry Bulk Removal
"It has been a pleasure dealing with you [ Brent - sales manager] and your company over the years. Your customer service is second to none. We look forward to working together for many more years to come" - Tomas
Click here to view more of our testimonials
Where does Panda Environmental service for hazardous waste removal?
At Panda we strive to provide the highest quality waste removal services to as many areas of Ontario as possible to make sure our beautiful province is kept as clean and healthy as possible. Here is our current service area map for hazardous waste removal. If you're unsure whether or not your location falls within the boundaries of our service area map, just contact us today to ask.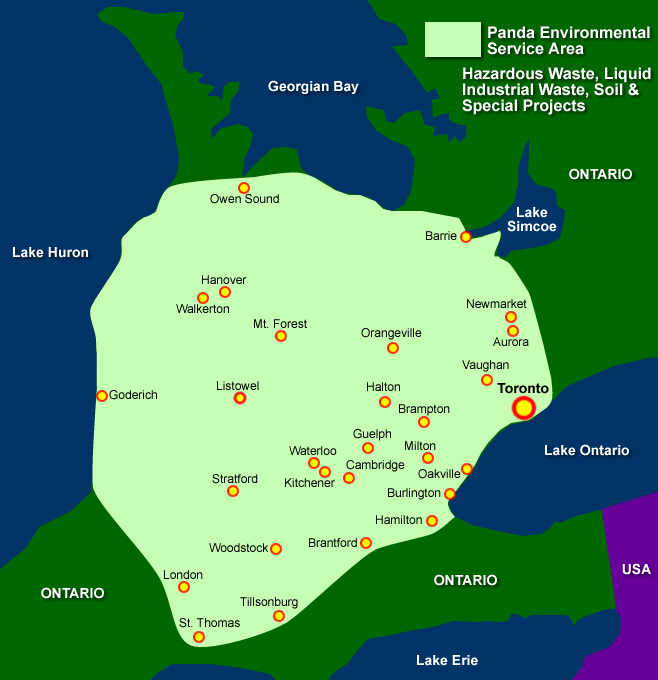 Why is it important to properly dispose of hazardous waste?
Properly disposing of hazardous waste is an essential part of maintaining the environmental health of your community. Hazardous waste contains elements which are potentially dangerous to the environment, particularly to plants and wildlife. For this reason, our hazardous waste disposal services require a very delicate approach when it comes to recycling or disposal. If certain mandated standards put forth by the government of Ontario are not met it can result in fines or penalties for either the business or individual. To ensure all of your hazardous waste disposal needs are met with the highest of environmentally friendly standards, be sure to contact us today.
Panda Environmental - Your Complete Waste Management Solution 
Panda Environmental has strived to be a leader in responsible waste management and recycling solutions for over 15 years. We are able to service all of your businesses waste and recycling handling needs, including hazardous waste. Click here for a list of all of the waste management and recycling solutions that we provide.