Guide for Construction & Demolition Debris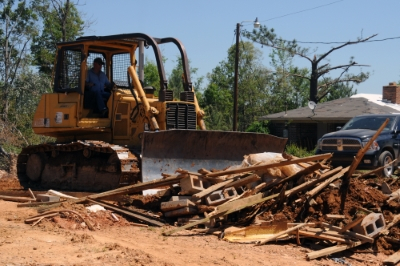 Construction and demolition debris are materials such as soil, lumber, scrap wood, shingles, drywall, and brick which are normally used in the construction of buildings, structures, walls and any other landscaping features. The disposal of this type of debris and waste is an issue that has gained attention in both the private and public sectors over the past number of years. Surveys suggest that approximately one-third of solid waste in Canada is generated from these construction and demolition activities, and as a result, many of our landfills are beginning to fill up, which is a growing concern.
This article will guide you through some of Ontario's regulations for the removal of construction & demolition debris and assist you with some of the ways that can help you reduce the amount of waste that is sent to landfill with these types of jobs.  Panda Environmental is a leader in waste reduction and disposal across Southern Ontario. Click here to learn more about their services.
Ontario Law
Ontario has set laws for businesses to help ensure as little waste as possible is being sent to local landfills. The government of Ontario has put in place source separation programs for materials pertaining to many different industries. The construction and demolition industries have separate programs,  they both require a source separation program be put in place if the total floor area of the construction area reaches at least 2000 square meters. By law, those undertaking such projects are required to fulfill the following requirements:
(1) A source separation program required under this Regulation must include,
(a) the provision of facilities for the collection, handling and storage of source separated wastes described in subsection (2) adequate for the quantities of anticipated wastes;
(b) measures to ensure that the source separated wastes that are collected are removed;
(c) the provision of information to users and potential users of the program,
describing the performance of the program,
encouraging effective source separation of waste and full use of the program;
(d) reasonable efforts to ensure that full use is made of the program and that the separated waste is reused or recycled.
(2) The source separated waste referred to in clause (1) (a) is waste that has been source separated from other kinds of waste and that consists solely of waste from one or more of the following categories:
1. The categories of waste set out in the part of the Schedule applicable to the person required to implement the source separation program.
2. The categories of waste set out in Schedule 1, 2 or 3 of Ontario Regulation 101/94 that the source separation program accepts.
(3) A source separation program required under this Regulation must provide for all the categories of waste set out in the part of the Schedule applicable to the person required to implement the program except for categories of waste that cannot be reasonably anticipated. O. Reg. 103/94, s. 2.
In addition to these regulations, there are also specific regulations set forth for both the construction and demolition industries. To view their specific regulations for waste separation, visit the following links to sections 7 and 8: http://www.ontario.ca/laws/regulation/940103.
A full list of the laws and by-laws pertaining to construction and demolition debris, along with most general wastes can be found at the following website:
For more information on the laws and by-laws that apply to your region, contact your municipal government.
How you can help cut down on waste
In 1994, the province of Ontario set forth a regulation called, "Waste Audits and Waste Reduction Work Plans" regulation. Like regulation 103/94, the regulation only applies to those working on an area of 2000 square meters or more, however, the province outlines some good regulations that anyone should follow if looking to cut down on waste. Here are some of the regulations that can help you cut down on your waste:
The completion of an on-site waste audit that identifies the amount and nature of the waste that will be generated;
The development of a waste reduction work plan that outlines specific achievable diversion options for reduction, reuse, and recycling;
The implementation of the waste reduction work plan;
The documentation of the waste audit and work plan results on forms provided by the MOE or forms that have been designed in the same general format;
The retention of a copy of the audit and work plan documents on file for five years from completion of the project.
To view more on the "Waste Audits and Waste Reduction Work Plans" regulation follow this link: http://www.ontario.ca/laws/regulation/940102
Panda Environmental
At Panda Environmental, we can provide full waste removal and recycling services straight to your construction site. Panda Environmental has been a leader in responsible waste management and recycling solutions for over 15 years. We are able to service all of your waste handling needs, including hazardous and liquid waste. We are able to pick up either by schedule or by request. Click here for a list of all of the waste management and recycling solutions that we provide.
"I wanted to tell you how much we appreciate your 'pickup' guys.  They are amazing.  The boss actually watched the driver 2 weeks ago…he got out of the truck and straightened the garbage container, picked up a bag that had fallen out in the dumping process and put it in the can, then removed 2 black bags from the recyclables that had been put in there by error (I assume). Never before have we had/seen such amazing service!"
- Karen, Local Auto Business
Click here for more testimonials about Panda Environmental
Sources: http://www.tpsgc-pwgsc.gc.ca/biens-property/gd-env-cnstrctn/page-8-eng.html