Over the last few years, there has been greater emphasis on food waste disposal and proper recycling. These top 3 food waste disposal trends in 2019 will help you keep your business up to date with the most recent food waste disposal and recycling programs. Although some business managers may overlook proper food waste disposal, it is important not only for your business but for the environment. When you throw out food with the rest of your garbage, it ends up in a landfill and produces large amounts of methane. This harmful gas contributes to global climate change - so it's important for everyone to do their part and reduce methane and other harmful emissions! To learn more about how your business can take control of its food waste management, contact the experts at Panda today!
Want to learn more about organic waste recycling?

Food Waste Disposal Trends For 2019
check out the top three trends below to learn more about the biggest food waste disposal trends this year. Your business may want to implement one or more of the ideas below, or use these ideas as inspiration for your own food waste disposal programs in your workplace. 
1. Donate Unused Food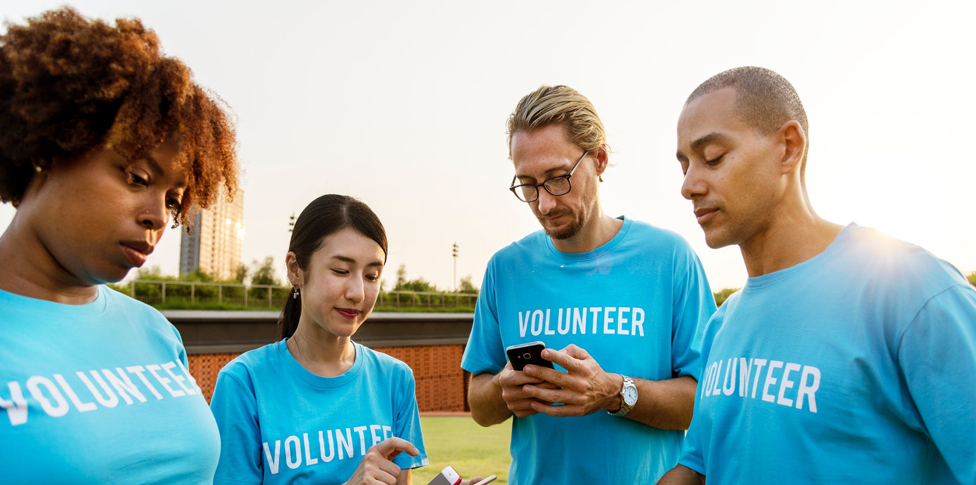 Donating unused or leftover food is a great way to get your company involved in your community
If your company has canned food or packaged food sitting in kitchen cabinets or pantries that has not been used and will not be used, don't just throw it into your compost bin or food waste container. Consider donating the extra food to a local organization. Or, use that food as a base for a community or company-wide food drive! It's a great way to get your employees and the community around you involved. You may want to hold a fundraiser or volunteer within your community. Consumers today care about companies that focus on things such as environmental sustainability and helping those in need. From Newsroom.accenture.com: 
"Nearly two-thirds of consumers globally (63 percent) prefer to buy goods and services from companies that stand for a shared purpose that reflects
their personal values and beliefs, and are ditching those that don't, according to new research from Accenture"
When your company donates their food, they are not only ensuring less food waste ends up in a landfill, they are also working towards a healthier and happier community and giving back to those in need. However, many organizations that accept food donations only accept non-perishable foods - and many companies only produce food waste such as scraps from worker's lunches or office parties. 
If this is the case in your office - don't fret! There are ways you can even donate food scraps, leftover cooked food, and even fruits and veggies. Some food recovery organizations will accept almost any type of food - including cooked foods and perishable foods. Once donated, that food can be used for a variety of things, such as feeding the hungry or simply thrown into a compost bin if it is no longer edible. If you are considering donating to a food recovery program, simply search for one near you and contact them ahead of time to schedule a visit and plan for the future.  
2. Compost At Work
When you think about composting, the first thing that comes to mind is often a large box filled with soil, rotten food, and worms. How can you possibly incorporate that into your workplace? The good news is that composting at work can be done in a variety of ways, and doesn't have to be complicated. Check out the quick video below to learn how one company began an amazing composting program - and used that compost to fertilize a small garden!
This video outlines one company's composting journey
In the video above, the company worked with a third party composting service that allowed them to receive the compost produced from their food scraps. They then used that compost to fertilize their beautiful vegetable and fruit display garden. This is possible to replicate even if your workplace is part of a larger office space! This particular company also ensured many of their items (such as coffee cups) were environmentally friendly and recyclable or compostable. 
If your business has some space out back, you can even choose to create your own compost right on-site. A DIY compost bin is relatively easy to make, and can help greatly reduce the amount of food waste that ends up in the trash. If you love the idea of composting but don't like the idea of a hands-on project, you can work with a waste management company to do it all for you - the compost will then be distributed in other ways, which means you'll still be giving back to the environment without doing the work yourself.  
3. Implement a Food Waste Recycling Program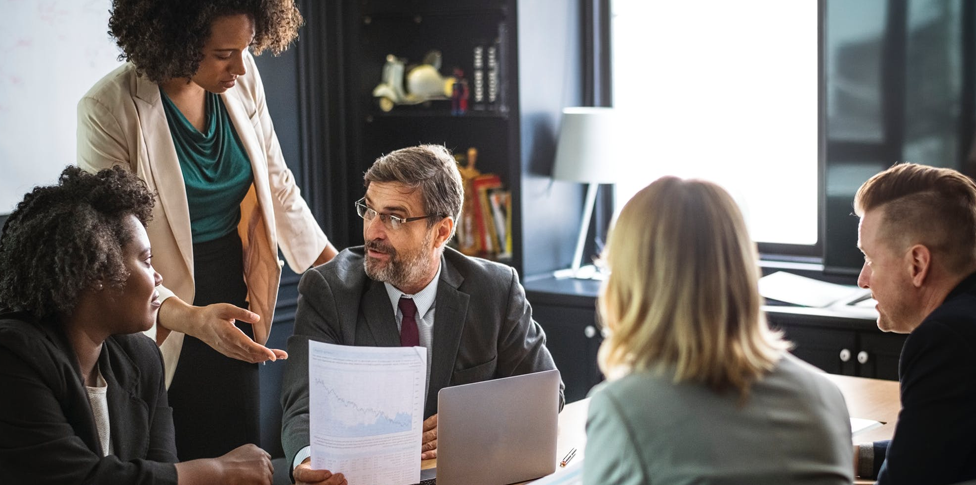 Creating a food waste management team can help all workers get on board with new programs and policies
Having a compost bin on-site or choosing to donate food is a great idea - but it can only work well if everyone on your staff is on board with these programs and projects. Many companies are beginning to create organic waste disposal and recycling programs, ensuring workers and management alike are all on the same page. Implementing any new program can be a bit of a challenge - change can be hard for workers. Here are some tips to get your program started and ensure it runs smoothly:
Clearly label waste containers - For example, if you bring in new green bins and paper recycling bins, ensure staff know what each bin is, how to use them, and which products go where. Workers will be more likely to participate if they clearly understand what they should do!
Put up signs - If you want to ensure that workers know exactly what to do, often telling them once is not enough. Put up signs that clearly state which items belong in which bins (ideally, close to the bins) so workers don't have to overthink it.
Hold regular meetings - As mentioned above, it can be difficult for workers to fully embrace new programs. Holding regular meetings soon after you implement your food waste disposal program can help ensure employees are up-to-date on policies and can ask questions about new guidelines if needed. 
Create a team - Creating a team of individuals (e.g. a "Green Team") who help get others onboard with the program, create new initiatives, and regularly discuss what is going well and what can be improved is a great way to ensure your new program sticks. 
Finding a Great Waste Management Company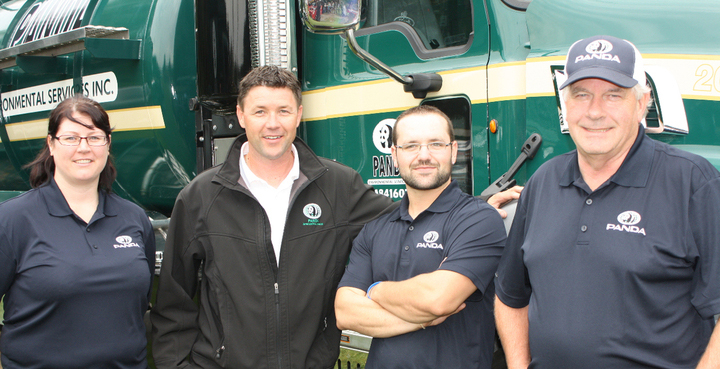 Some of Panda Environmental's Team
Part of implementing your food waste recycling program can include finding and working with an excellent waste management company. In many places, corporate or industrial waste pickup is not covered by municipal waste management services. That means companies must find their own waste management company to work with - both for regular waste pickup services, but also for food waste pickup and management services. So, how can you find a great waste management company? See below for some things to look out for:
Check online reviews - Seeing what others have said about a particular company is a great way to get a feel for any business. Read online reviews, check average ratings, and see if waste management companies have successfully helped others implement food waste recycling programs.
Ask about custom options - Your business is unique, with its own challenges and successes. A generic food waste recycling program may not fit your business well. A great waste management company will work with you to determine which services you need (and which ones you don't need) to help you get the best services that fit not only your company's needs, but its budget too.
Find out about other services - If you have other waste management needs (such as industrial/hazardous waste removal, weekly pickups, etc.) it would be ideal if one company could take care of everything. Otherwise, it can get confusing - and costly. Before choosing a company, find out if they can take care of ALL your waste management needs; this can cut costs and reduce stress for you, as you'll only have to worry about dealing with one company rather than three or four. 
At Panda Environmental, we offer a wide range of services from food waste disposal to recycling services to hazardous waste disposal and more. Click here to see all of our services! 
Trust Panda Environmental To Help With Your Company Food Waste Disposal Program!
Panda Environmental offers a wide variety of commercial waste removal and management programs and services perfect for you and your business. We understand the benefits of proper waste disposal, including food waste recycling. At Panda Environment, we are dedicated to helping your team succeed with their recycling efforts.
We also offer consulting services, including waste stream consultations, yearly waste audits, quarterly reports, and more. Our consulting and auditing services can help you save money on current and future waste management programs. It can also help ensure the successful implementation of your new or updated company recycling program, and help you keep track of it after you have launched! 
Click here to learn more about all of our waste management services in the Kitchener-Waterloo area!
Work with Panda today and you will work with a waste management company that cares about recycling and the environment. Panda Environmental has strived to be a leader in the responsible waste management and recycling solutions across Ontario for over 15 years.
We are able to service all of your business' waste and recycling handling needs, including hazardous waste. 
For a full list of our service areas, click here. 
Click here for a list of all of the waste management and recycling solutions that we provide.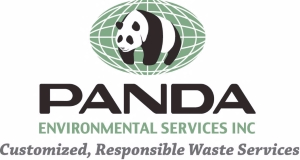 "Hands down some of the best customer service I have ever experienced. Panda has not only provided a better value to our business,
but has done it all with a smile and sincere willingness to help us out. If you are looking for a new waste partner, you will not be disappointed by Brent and the team at Panda!"

- Dylan, read more Google Reviews here!
Contact Us Today!
Toll-Free: 1-877-745-4140