Do you live in Kitchener, Ontario, and want to learn more about Kitchener garbage collection? Understanding all of the important services available in your area will help you make the most informed choices when it comes to both personal and commercial waste management. For example, if you have just completed some home improvements, you may have leftover paint cans or other chemical products. In order to properly and safely dispose of these items, you need to know what to do with your hazardous waste in Kitchener. Learn more below about garbage collection and waste management in Kitchener, or contact the experts at Panda Environmental today!

Everything You Need To Know About Kitchener Garbage Collection
Garbage collection is more than just your weekly garbage pickups. Hazardous waste, organic garbage, commercial waste, and recycling services all fall under this broad term as well. If you live in Kitchener, you will want to know the basics for some or all of the above. Unfortunately, many home and business owners in Ontario don't know how to properly dispose of their waste. Knowing more about all types of waste collection in your area can help ensure you dispose of all waste properly, which not only helps your community, but also the environment. 
WEEKLY GARBAGE COLLECTION
The Region of Waterloo provides curbside garbage collection to eligible households in Kitchener. Garbage collection occurs every other week. Garbage collection begins at 7:00 am and goes until the evening. The time when your garbage is picked up will vary based on a number of factors, including the volume of waste that needs to get picked up, road and weather conditions, etc. Garbage pickup day also varies depending on where you live. If you aren't sure when your collection day is, you can check out the interactive Region of Waterloo waste collection day finder.


Screenshot of the Region of Waterloo - Waste Collection Day map; Image source: gis.region.waterloo.ca
To use the finder shown above, simply search for your address in the search bar at the top of the page, or use the map to find your location. The colour coded map will then tell you which day of the week your garbage pickup occurs and how frequently it happens. 
RECYCLING SERVICES
Did you know that the first Blue Box Program was invented in Waterloo? To this today, the Region of Waterloo still emphasizes the importance of recycling. Blue Box recycling pickup occurs on a weekly basis from eligible households, which includes single-family homes, townhomes, duplexes, and small apartment buildings.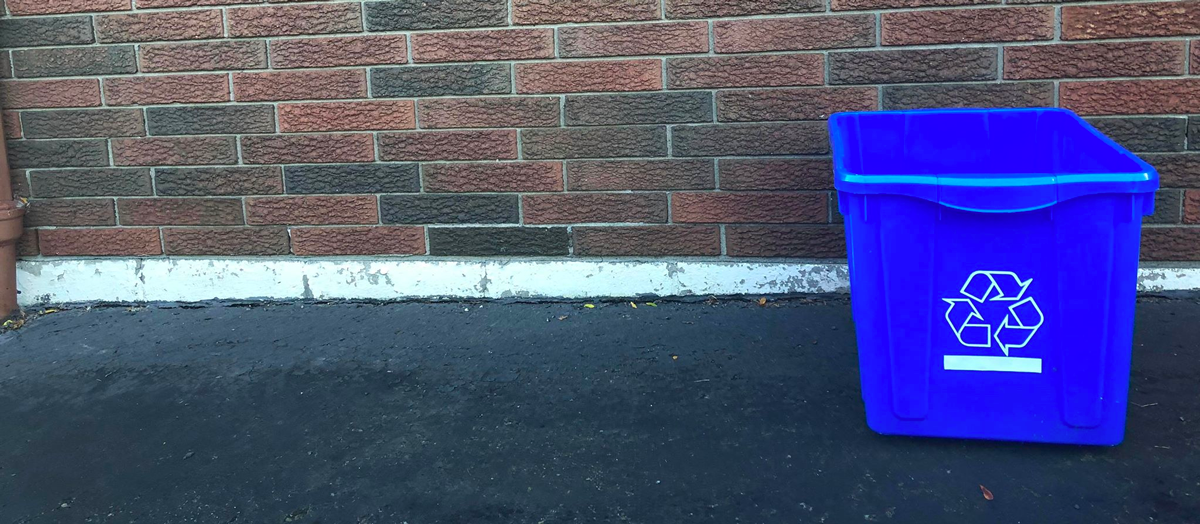 A residential Blue Box used for recycling 
If you have recently moved to Kitchener (within the last 6 months) and you need your own blue box, you can bring proof of residency to the Region's Waste Management office to pick up your own blue box!
The Two Box System
In the Region of Waterloo, a two-box system is in place for household collection. Instead of putting all recyclable materials into the same box, residents will have two boxes - one for "containers" and one for "paper products and plastic bags." See below for some examples of what you can put in each box. 
'Containers' Blue Box Examples
Cans, including metal food cans, drink cans, empty aerosol cans
Drinking cartons, milk and juice cartons
Glass bottles and glass jars
paper cups and plastic containers 
'Paper Products and Plastic Bags' Blue Box Examples
Paper products such as newspaper, writing paper, envelopes, books
Boxboard, such as cereal boxes, egg cartons, paper take-out trays
Plastic bags and outer wrap, grocery and zippered bags, bread bags, vegetable and fruit bags 
To see a full listing of the products you can and cannot recycle, click here. 
GREEN BIN (ORGANIC WASTE RECYCLING)
In Kitchener, you can use a green bin for organic waste recycling. Most households will have a small green bin that they keep in their kitchen to easily dispose of leftovers and organic waste. When that container is full, you can bring it out to a larger green bin that will be set out at the curbside during collection day. Organic waste pickup occurs on a weekly basis in the Region of Waterloo. Click here to learn more about using your green bin in Kitchener.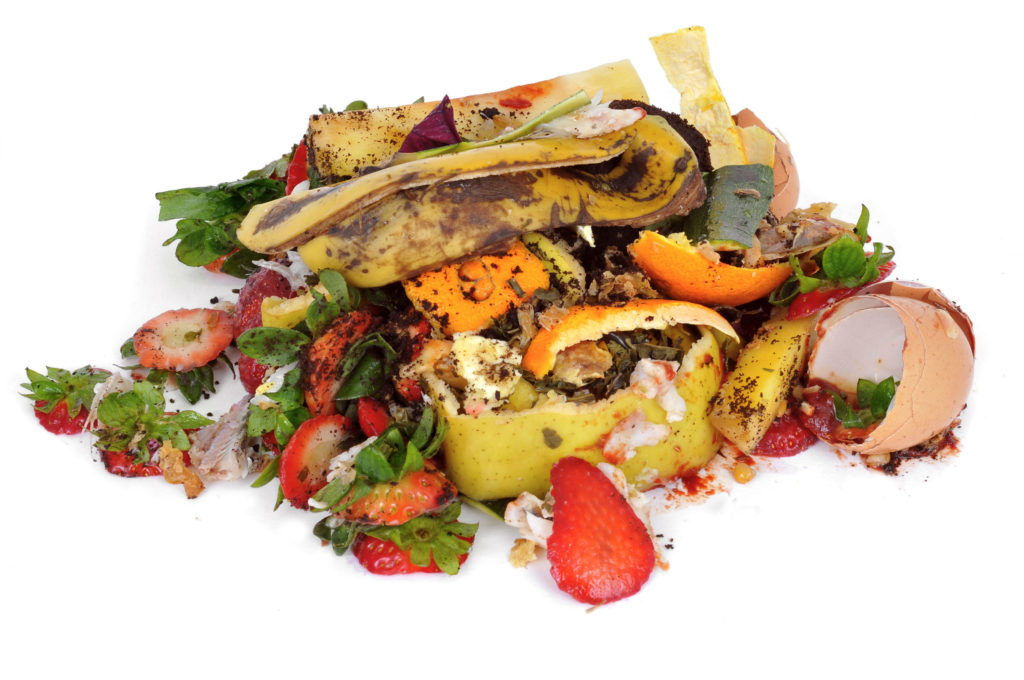 What To Put In Your Green Bin
All food scraps (e.g. bones, shells, spoiled food, cooked food, baking and cooking ingredients, etc.) 

Hair, nail clippings, fur

Houseplants, cut flower waste

Some paper products including paper plates, paper towels, facial tissues 
To see a full listing, click here. 
HOUSEHOLD HAZARDOUS WASTE
Unlike the other types of waste listed above, weekly or bi-weekly garbage collections does not pick up household hazardous waste. This is to ensure the health and safety of those working in waste collection as well as the health and safety of those in the community. In order to safely dispose of household hazardous waste, you must bring your waste to a drop-off location.

Household hazardous waste includes items such as cleaning products, paint, automotive fluids, and other items containing chemicals
For residential drop-off information, click here. For commercial drop-off information, click here. 
Examples of Household Hazardous Waste
Automotive fluids including motor oil and oil filters
Batteries
BBQ tanks and other pressurized cylinders 
Chemicals and household cleaning products 
Medicine and syringes 
Click here to see a full listing, or learn more about household hazardous waste now. 
Commercial Garbage Collection
Unlike residential garbage collection, the Region of Waterloo does not offer commercial or business waste collection. However, in some instances, businesses can drop off their waste at specified facilities. Landfills only accept waste that has been generated within Waterloo - this means that waste from any other jurisdiction is not allowed. Because businesses are not provided with weekly or bi-weekly collections, it is important to find a commercial waste management company to work with. The Region of Waterloo offers a listing of commercial haulers on their website so businesses can set up a waste management program. 
PANDA ENVIRONMENTAL - KITCHENER GARBAGE COLLECTION 
At Panda Environmental, we offer a wide variety of commercial waste management services for many different types of businesses and locations. Whether you need organic waste recycling from apartment buildings or restaurants or hazardous waste removal from construction sites, we can find a waste management plan that works for you! 

Panda Environmental's team performing hazardous waste removal
We work with companies to find out exactly what services are required so that you can take control of your waste management. Proper waste management helps ensure that employees and customers and clients stay safer (a cleaner environment is better for everyone!) and that your company adheres to local and federal waste management laws and guidelines.
Services We Offer
Looking for more services? Click here to view a full listing of all services offered by Panda. 
Get The Best Waste Management Services in Kitchener With Panda Environmental!
Panda Environmental offers a wide variety of commercial waste management programs and services. We understand the benefits of proper waste disposal - both at home and in commercial settings. Click here to learn more about our waste management services in the Kitchener-Waterloo area!
Work with Panda today and you will work with a waste management company that cares about recycling and the environment. Panda Environmental has strived to be a leader in the responsible waste management and recycling solutions across Ontario for over 15 years.
We are able to service all of your business' waste and recycling handling needs, including hazardous waste. 
For a full list of our service areas, click here. 
Click here for a list of all of the waste management and recycling solutions that we provide.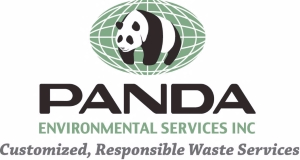 "Very good service, using PANDA for years and all I can say they are the best in the region.
Brant the sales rep is amazing guy to deal with."

- Robert, read more Google Reviews here!
Contact Us Today!
Toll-Free: 1-877-745-4140