Dispose of Industrial Hazardous Waste in Ontario - Many businesses, companies, and corporations produce hazardous waste on their job sites. Ensuring that hazardous and industrial waste is properly and efficiently disposed of is not only for you and your workers' safety but also for environmental safety and compliance with Canadian laws and regulations. Learn more about the laws that govern hazardous and industrial waste in Ontario, what qualifies as hazardous waste, and how Panda Environmental can help! Contact the experts at Panda today to learn more. 
Need Industrial Hazardous Waste Disposal In the Kitchener-Waterloo area?

Common Types of Hazardous Waste & Classifications 


Hazardous waste also includes common 'household' products such as oil, cleaning products, and paint
According to the Government of Ontario website, there are many different classifications of hazardous wastes. Hazardous waste has been broken up into these categories to ensure that each type is properly and safely managed, handled, collected, transported, and disposed of. From Ontario.ca:
Listed Waste:

Acute hazardous waste chemical

Hazardous industrial waste

Hazardous waste chemical

Severely toxic waste

Characteristic Waste:

Corrosive waste

Ignitable waste

Leachate toxic waste

Reactive waste

Pathological Waste:

Human and animal remains

Non-anatomical waste infected
with disease

 

PCB Waste:

PCB Equipment

PCB Material

PCB liquids

 

Radioactive Waste:

Waste that is not under the
jurisdiction of the Canadian Nuclear
Safety Commission

 
Construction sites, warehouses, and other industrial sectors may frequently produce one or more types of hazardous waste that will need to be regularly removed. Other sectors such as the healthcare sector may frequently produce pathological waste. Learning what type of waste your business produces will help you get a better understanding of the type of waste management your business needs. If you aren't sure what services you could benefit from, contact the experts at Panda Environmental today!  
Even if your business does not produce more 'obvious' types of hazardous waste (such as bio-medical waste or severely toxic waste), almost all businesses produce some materials that are considered toxic waste. These common materials include: 
Materials from manufacturing (e.g., waste acids, contaminated sludge and chemicals)
Photo-finishing chemicals
Waste pesticides
Polychlorinated biphenyls (PCBs)
Motor oil
Unused cleaning products from homes or offices
Discarded batteries
Source - Ontario Ministry of the Environment and Energy
Because nearly all businesses produce some amount of hazardous waste, it is important to consult with the professionals to ensure all waste is properly disposed of - even if all the hazardous waste your produce is some old electronics or batteries! 
Hazardous Waste Disposal - The Panda Solution!
At Panda Environmental, we have the tools, equipment, experience, and know-how to safely and effectively dispose of your company's hazardous waste. We offer flexible pick-up schedules to work with your particular needs, as well as one-off services. Whether you own a small retail business or a large construction company, we have the solutions that are right for you! For the most common types of industrial and hazardous waste, we have two types of disposal trucks - our vacuum trucks and our drum trucks. Learn more about our solutions below!
Vacuum Trucks 


Panda's vacuum trucks being used to remove liquid waste
Vacuum trucks are a large type of waste management truck used to pump out hazardous and liquid waste. The waste is often removed from areas such as basins. Vacuum trucks are frequently used in the industrial sector, but can also be used for residential and commercial sewage and other hazardous waste disposal. Vacuum trucks can be used for a wide variety of purposes, including: 
Hazardous & Liquid Industrial Waste Removal
Sludge Removal
Interceptor Clean Out
Stormceptor Clean Out
Pit Clean Out
Cutting Table Clean Out
Tank Bottom Clean Out
Corrosive Material Removal*
Oily Water Removal
Hazardous Dry Bulk Removal
Industrial, Commercial, & Institutional Dry Bulk Removal
Not sure if you could benefit from a vacuum truck? Industries that may need to use vacuum trucks on a regular basis include chemical plants, shipyards, oil refineries and energy plants, steel or aluminum plants, and many other types of industrial companies. 
Drum Trucks


Panda's drum truck services can help dispose of paint, batteries, industrial lighting, and more
Panda's Drum Truck services provide clients with an alternative to pumping out material from drums and totes. Drum truck services are used for hazardous and liquid waste removal, but also for other types of hazardous waste, such as batteries or fluorescent tube and lighting recycling. Because of this, drum trucks are ideal for industries such as retail that may only produce small amounts of hazardous waste. 
Hazardous & Liquid Industrial Waste Removal
Drum Removal
Tote Removal
Lab-packing Services
Paint & Sludge Removal
Waste Glycol and Oil Removal
Electronic Waste Recycling
Fluorescent Tube & Industrial Lighting Recycling
Battery Pick-up for Recycling
Click here to learn more about our drum truck and hazardous waste removal services!
Dispose of Industrial Hazardous Waste in Ontario - Compliance With The Law
In Ontario, there are laws that govern how businesses and corporations must dispose of their waste, including industrial hazardous waste.  Regulation 347 under the Environmental Protection Act, R.S.O. 1990, c. E.19 provides the rules and regulations for legal and safe disposal of waste. These regulations and laws include how businesses must handle their hazardous waste.
Businesses and companies must ensure their hazardous waste is properly disposed of in order to comply with Ontario law. If you do not follow these laws and illegally dump hazardous waste or dispose of it improperly, you may end up facing legal consequences and being charged with a crime. In many locations in Ontario, businesses are responsible for finding their own hazardous waste disposal solutions (along with weekly or bi-weekly curbside pickup of regular garbage, recycling, and compost).
With this mind, how can companies comply with the many regulations regarding not only hazardous waste, but also garbage and organic waste? Working with a professional waste management company that has the tools and equipment to safely and effectively dispose of your hazardous waste is the best way to comply with the laws. A waste management company will know all there is to know about Ontario hazardous waste laws and will ensure your business complies with each and every one!
Let Panda Help You With Your Waste Management Needs Today!
Finding the right waste management company for you and your specific needs can be a challenge. At Panda, we work with our customers to help them find a waste disposal package that works for them!
Work with Panda today and you will work with a waste management company that cares about recycling and the environment. Panda Environmental has strived to be a leader in responsible waste management and recycling solutions across Ontario for over 15 years.
We are able to service all of your business' waste and recycling handling needs, including hazardous waste. For a full list of our service areas, click here. 
Click here for a list of all of the waste management and recycling solutions that we provide.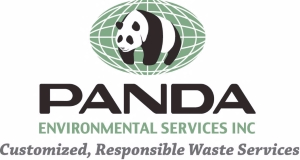 "Very good service, using PANDA for years and all I can say they are the best in the region.
Brant the sales rep is an amazing guy to deal with."

- Robert, read more Google Reviews here!

Contact Us Today!
Toll-Free: 1-877-745-4140