Bin Rentals Kitchener Waterloo & Milton 

Interested in waste bin rentals in Kitchener Waterloo or Milton? Panda Environmental specializes in the scheduled removal of waste from businesses, apartments and industrial sites at a set frequency. Our waste removal services include garbage disposal, recycling services, and hazardous waste removal, and bin rentals! Let Panda Environmental work with your business today to increase efficiency and reduce disposal costs.
Looking for bin rentals in your area?

Is A Bin Rental Right For Me?
With many waste management options, it may be hard to decide which option is best for you and your property. Bin rentals are ideal for commercial or residential properties that produce waste on an occasional basis. Based on the amount of waste produced, you can choose to rent a dumpster in the both short-term or long-term. Bins are a convenient way to manage you or your company's waste using a safe method. In Kitchener, Milton, and other surrounding areas in Southern Ontario, pests and animals can become a problem, especially during the summer months. Bins securely contain waste, helping to ensure that animals and pests such as raccoons do not end up as permanent residents on your property!     
However, if your organization or residential property is regularly producing large amounts of waste, you may want to consider scheduled removal or another waste management option. Bin rentals are a great, cost-effective option for those producing occasional large quantities of waste. However, simply using bins when significant amounts of waste are consistently being produced may not be the most efficient or best method. If this is the case, consider other waste management solutions.

Bin Rental and Removal: Scheduled versus Unscheduled
Many businesses and individuals rent bins on an unscheduled basis and call for their removal once full. This approach works if the bin is only filled occasionally, or waste removal is only required once or twice. Scheduled removal with Panda Environmental has numerous benefits:
Reduced cost
Superior waste management 
Access to recycling and composting services
Hazardous waste removal
Read below for more details about each one of these benefits.
Reduced Cost: 
Constantly renting bins on a one-time basis is more expensive if ongoing then creating a scheduled waste removal plan with Panda.
Superior Waste Management:
Panda Environmental has 15 years of experience. Let our waste management specialists work with you in order to
provide the most effective solutions in regards to convenience, cost and the environment.
Click here to learn more about us.

Access to Recycling and Composting Services:
Panda Environmental holds the environment in high regard, and as such is a leader in providing recycling and composting/organic waste disposal. These initiatives can actually save money for the customer, as they divert waste away from landfills.
Hazardous Waste Removal:
Panda is able to dispose of all manner of waste in the correct manner. Click here to learn more about our hazardous waste disposal.
How Do Bin Rentals Work?
Bin rentals can vary from company to company. At Panda Environmental, we have bin rental services to meet many different needs. See the graphic below to see how easy it is to use our bin rental services! Keep in mind that the exact process may vary depending on your specific needs and circumstances.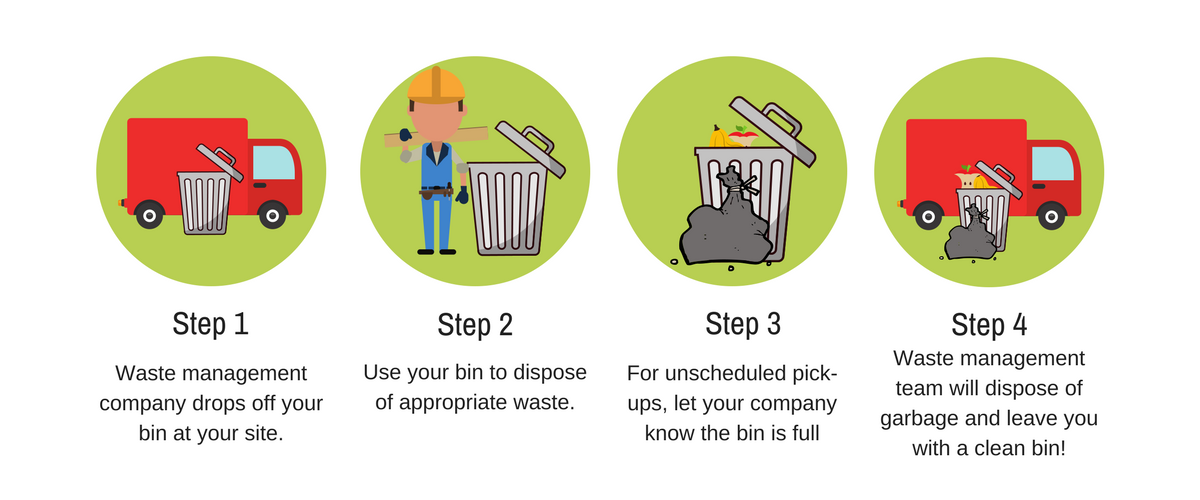 We have solutions For smaller or larger-scale scale organizations or properties. See below for more details. 
Small-Scale Waste Removal
Up to 8 cubic feet of waste per removal. This is done via a 'traditional' style garbage truck - meaning the bin will be emptied by a truck and then returned to its place.
Large-Scale Waste Removal / Bin and Dumpster Services
Up to 50 cubic yards per visit. This waste removal is done via a bin/dumpster setup, where a truck will take away the full bin, and deliver a fresh bin.
Panda Environmental - Your Complete Waste Management Solution 
Panda Environmental is a leader in the responsible waste management and recycling solutions for over 15 years. Trust Panda to service all of your waste needs, including hazardous waste. Click here for a list of all of the waste management and recycling solutions that we provide.
"Panda Environmental has been a trusted supplier for our company for several years. On time pick up, professional courteous drivers, and consistent billing are just some of the value-added services Panda provides. I would recommend them as your waste disposal vendor."
-Trevor, A Panda Customer - Read More Reviews From Google Here!
Toll-Free: 1-877-745-4140