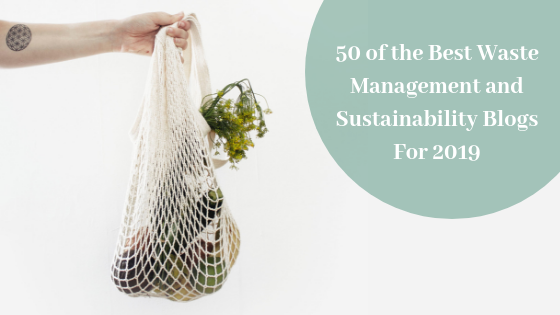 Sustainable living and the need for effective waste management practices are becoming more widely recognized in both residential and commercial contexts. To make the decision to "go-green" easier for our readers in 2019, we've compiled (in no order) 50 of the best waste management and sustainability blogs on the web. Choosing to live sustainability isn't always easy, but we think these bloggers will inspire you to make healthier choices for yourself and the environment in 2019. Ready to start shrinking your environmental footprint? Check out the incredible bloggers below!
Looking to reduce your business' waste? Contact Panda Environmental for a unique program to meet your business' specific needs!
50 of the Best Waste Management and Sustainability Blogs For 2019
1 - Thomson Reuters
About: "(Our) sustainability site focuses on climate, finance, energy, health, law, diversity and corporate governance, and we examine these topics with a group of trusted partners and industry leaders. The core issues concern how our planet thrives economically while at the same time promoting healthy  people and ecosystems as defined in the United Nations Sustainable Development Goals."
Read More: https://blogs.thomsonreuters.com/sustainability/
2 - Sustainability Matters
"Our Sustainability Matters magazine and website provide busy environmental and sustainability-focused professionals with an easy-to-use, readily available source of information that is crucial to gaining valuable industry insight."
Read More: https://www.feedspot.com/infiniterss.php?q=site:http%3A%2F%2Fwww.sustainabilitymatters.net.au%2Ffeed
3 - Sustainabie Waterloo Region 
"Our mission is to enable local organizations to convert their sustainability interest into action. Our programs focus on organizational sustainability practices, commuting behaviour, re-generative buildings, community GHG impacts and electric vehicles."
Read More: https://www.sustainablewaterlooregion.ca/blog/
4 - Sustainable Human
"Chris and Dawn Agnos Co-founded Sustainable Human. Our mission is to examine the flawed mindsets and behaviors which are at the root of our sustainability crises and offer alternatives that can form the foundation of a more sustainable world."
Read More: https://www.feedspot.com/infiniterss.php?q=site:https%3A%2F%2Fwww.themaven.net%2Fapi%2Frss%2Fchannels%2Fsustainablehuman
5 - Eco Warrior Princess
"Founded in 2010 by Jennifer Nini, Eco Warrior Princess covers the topics that matters — sustainable fashion, conscious businesses, green politics, feminism, eco beauty, wellness, green technology — in an analytical, intelligent and honest way."
Read More: https://ecowarriorprincess.net/start-here/
6 - Sustainability Leads
"Exploring Organizational Approaches to Sustainability and Corporate Social Responsibility."
Read More: http://sustainabilityleads.com/blog
7 - Recycle.com
"We envision a waste-free future – a world where wastes become resources and sustainable systems bring value to businesses, institutions and communities, enhancing environment and quality of life."
Read More: https://recycle.com/blog/
8 - Sustainable Development Solutions Network
"Sustainable Development Solutions Network (SDSN) mobilizes the global scientific and technological expertise to promote practical problem solving for sustainable development, including the design and implementation of the Sustainable Development Goals (SDGs)."
Read More: https://www.un.org/sustainabledevelopment/
9 - Waster.com.au
"Waster.com.au is an innovative solution for all your waste management and recycling needs."
Read More: https://waster.com.au/waste-management-blog/
10 - Zero Waste Europe
"Zero Waste Europe (ZWE) proposes to re-design our society in a way that all superfluous waste is eliminated and everything that is produced can be re-used, repaired, composted or recycled back into the system."
Read More: https://zerowasteeurope.eu/2018/12/eu-agrees-unprecedented-cuts-to-single-use-plastics/
11 - Recycle Now
"Recycle Now is a campaign to encourage people to recycle more things more often. From recycling more everyday items like glass and plastic bottles and unwanted electrical goods to reducing our food waste, re-using carrier bags or trying out new things like home composting, there's lots we can all do to help cut back on the amount of waste we send to landfill."
Read More: https://www.youtube.com/watch?v=7J7R1_W06j0
 
12 - United Nations Sustainable Development Goals
"The new Sustainable Development Goals are 17 Goals to Transform Our World. Over the next fifteen years, with these new Goals that universally apply to all, countries will mobilize efforts to end all forms of poverty, fight inequalities and tackle climate change, while ensuring that no one is left behind."
Read More: https://www.un.org/sustainabledevelopment/
13 - Environmental Leader
"Our leading trade publication keeps industry executives informed daily about energy, environmental and sustainability news, issues & challenges businesses face today."
Read More: Environmentalleader.com
14 - Sustainable Brands
"Welcome to Sustainable Brands – the premier global community of business innovators who are shaping the future of commerce world wide. Since 2004, our goal has been to inspire, engage and equip today's business and brand leaders to prosper for the near and long term by leading the way to a sustainably abundant future."
Read More: sustainablebrands.com/news
15 - Sustainable.co.za
"Our green blog has it covered, from technical information on renewable energy solutions & news articles to daily green tips for the home or office."
Read More: sustainable.co.za/blog
16 - Tree People
"TreePeople is an environmental nonprofit that unites the power of trees, people and technology to grow a sustainable future for Los Angeles. Simply put, our work is about helping nature heal our cities"
Read More: https://blog.treepeople.org/post/sustainablesolutions
17 - Groovy Green Living
"This site is dedicated to providing an honest and credible setting for sharing useful tips, trends, and information relating to living a greener lifestyle. On any given day you will find practical information on products and ideas that support a greener, healthier lifestyle for you and your family."
Read More: http://groovygreenlivin.com/
18 - Environmental Defence
"Environmental Defence challenges and inspires change in government, business and people to ensure a greener, healthier and prosperous life for all."
Read More: https://environmentaldefence.ca/
19 - David Suzuki
"Since 1990 — thanks to the support of our donors, partners, volunteers and staff — the David Suzuki Foundation has proven that science and traditional knowledge together light the way forward, and that we are capable of making real progress toward solving environmental challenges if we come together."
Read More: https://davidsuzuki.org/stories/
20 - Going Zero Waste
"Going Zero Waste is dedicated to bringing you tested and tried zero waste recipes to help you clean your house, shake up your beauty routine, or get dinner on the table quickly. You will find practical tips that break zero waste living down into an easy step-by-step process. Most importantly, you will find a place of community and support wether you've just started going zero waste or you're trash in a mason jar level."
Read More: https://www.goingzerowaste.com/
21 - Wasteland Rebel
"On this blog you will find practical and very simple recipes for home remedies, many tips as well as information and facts on general sustainability issues. Since Hanno and I are not one of the people who like to spend a lot of time on the household (or the food preparation), our recipes are really ridiculously simple and quickly ticked off.
Read More: https://wastelandrebel.com/de/
22 - EcoCult
"EcoCult is a curious, thoughtful, science-based view into sustainable fashion and travel in New York City and internationally."
Read More: https://ecocult.com/
23 - PareDOWN
"The Zero Waste movement is in its infancy, but it's gaining momentum and growing quickly.  Cultivating a community to support those taking the Zero Waste journey is what PAREdown is all about."
Read More: https://www.paredownhome.com/paredown/
24 - GreenCareer
"GreenCareer is a dedicated Employment and Resource website for Professionals in Environmental and Sustainability sectors in Australia and New Zealand."
Read More: greencareer.net.au/news
25 - Sense & Sustainability
"Sense & Sustainability is an organization dedicated to advancing the study and understanding of sustainable development."
Read More: http://www.senseandsustainability.net/category/blog/
26 - Green Living Guy
"The Green Living Guy, Seth Leitman is a green living expert, celebrity and Editor of the McGraw-Hill, TAB Green Guru Guides. Seth is also an Author, Radio Host, Reporter, Writer and a Environmental Consultant on green living. The Green Living Guy writes about green living, green lighting, the green guru guides and more."
Read More: greenlivingguy.com
27 - Ideas for Sustainability
"A blog by Joern Fischer and his collaborators on sustainability and landscape ecology: engaging your head and your heart. Ideas for sustainability is a forum to discuss exciting ideas that might help us reach a sustainable future."
Read More: https://ideas4sustainability.wordpress.com/
28 - U.S Sustainability
"Sustainability news and information about U.S. sustainable practices – how U.S. agriculture, forestry and fisheries grow, harvest and produce sustainably."
Read More: https://thesustainabilityalliance.us/latest/
29 - Trees, Water & People
"Trees, Water & People is a nonprofit organization that was founded in 1998 by Stuart Conway and Richard Fox, and is staffed by a group of dedicated conservationists who feel strongly about helping communities protect, conserve, and manage the natural resources upon which their long-term well-being depends."
Read More: https://treeswaterpeople.wordpress.com/
30 - Global Sustainability
"Global Sustainability is a new Open Access interdisciplinary journal publishing significant advances in science and social science research. Global sustainability defines the conditions under which humans and nature, societies and the biosphere, the world and the Earth can co-exist in ways that enable productive harmony, stability and resilience to support present and future generations."
Read More: gsus-journal.com/blog
 
31 - Sustainable Conversation
"Our award-winning climate, air, water and wildlife initiatives promote practical solutions and tangible results for California and its people. Founded in 1993, Sustainable Conservation's effectiveness lies in building strong alliances with business, agriculture and government and establishing models for environmental and economic sustainability that can be replicated across California and beyond."
Read More: https://www.youtube.com/user/suscon123/videos
32 - Business Green
"BusinessGreen provides companies with information on how to plan and undertake successful green initiatives that both cut costs and enhance the brand values of their organisations. The UK's leading source of information for the green economy, delivering the latest news and in-depth analysis on green business and environmental issues."
Read More: businessgreen.com
33 - Triple Pundit
"Reporting on the Triple Bottom Line & Sustainable Business News. The philosophy of TriplePundit is based on the "triple bottom line" or — three Ps — of sustainability – People, Planet, Profit. Follow this site to get articles and resources on social entrepreneurship, green jobs and the triple bottom line in sustainable business."
Read More: triplepundit.com
34 - Ecopreneurist
"Ecopreneurist is a blog for and about eco and social entrepreneurs, startups, cleantech, web 2.0 and disruptive business ideas. We offer advice, tools and case studies to help them start, run, and grow their businesses. Ecopreneurist covers the latest trends in sustainable and socially responsible startups, companies and products."
Read More: ecopreneurist.com
 
35 - Sustainable Life in Action
"Sustaining Self While Working for a Sustainable World."
Read More: sustainablelifeinaction.com
36 - Strategies for Sustainability
"Strategic leadership towards sustainability - individuals, organizations, and communities using systems thinking to create a better future that is peaceful, healthy, prosperous, just, equitable, and resilient for generations to come."
Read More: http://strategiesforsustainability.blogspot.com/
37 - American Sustainable Business Council
"Building a vibrant, just and sustainable economy through policy change supported by business leaders. Promoting socially-responsible business."
Read More: asbcouncil.org
 
38 - Litterless
"Here on Litterless, I write about striving for zero waste both imperfectly and joyfully, as a way to work toward a more sustainable future."
Read More: https://www.litterless.com/
39 - Treading My Own Path
"Zero waste and plastic free living. Simple living and minimalism. Real food and recipes. Community."
Read More: https://treadingmyownpath.com/about-me/
40 - Green Business
"The purpose of this site is to provide commentary on green business. We will write about green business in a simple, clear and informative manner, and offer our opinions through a series of articles focusing on the ever-changing world of sustainability."
Read More: futureofbusiness.info
41 - Great Green Content
"Great Green Content provides quality copywriting and content marketing services to sustainable businesses."
Read More: greatgreencontent.com/blog
42 - Green Marketing Company 
"Green Marketing TV covers the art of green and social entrepreneurship, through insightful articles on successful businesses, interviews with visionary entrepreneurs, down-to-earth marketing tips, and more."
Read More: greenmarketing.tv
43 - SpurTopia
"This is our sustainable-living story which we would like to share with you to provide information, ideas, inspiration and courage to take the first step in your life. Being less reliant on the system and becoming self-sufficient by growing food, utilizing recycled material and using the urban environment to our benefit, is our passion and lifestyle."
Read More: http://spurtopia.blogspot.com/
44 - Environment Blog
"Environment Blog brings you environmental news and insightful articles on green business."
Read More: https://www.environmentblog.net/category/green-business/
45 - Sustainable News UK
"Sustainability and Sustainable News focused on the UK but also covering world stories."
Read More: Sustainablenews.uk
46 - Sustainable Building & Design Magazine
"Sustainable Building & Design Magazine is a source for environmental building professionals everywhere."
Read More: Sbdmagazine.ca
47 - Eco Office Gals
"Eco-Office Gals strives to build businesses green and paperless. Our blog site compiles information about sites and products that we find safe and useful for our environment. Follow this blog and get ideas for businesses interested in making a lighter environmental Impact."
Read More: eco-officegals.com/eog-blog
48 - Green Business Bureau
"The Green Business Bureau offers businesses an easy to use online tool and clear roadmap to become eco-efficient, one step at a time. Follow this blog to get tips on green business and environmentally responsible practices."
Read More: greenbusinessbureau.com/blog
49 - Greenability Magazine
"Learn about local options for sustainable living for your home, work and family. Greenability is your source for green news, events, resources, and ideas."
Read More: https://greenabilitymagazine.com/green-news/
50 - Centre for Sustainable Development
"Centre for sustainable development (CSD) is a non-profit organization registered in 2003 under the Karnataka Societies Registration Act. It is governed by a board of highly distinguished and eminent personalities associated with sustainable development. The mission is toTo enhance the quality of life by catalyzing the role of citizens, industry and governance to invest in sustainable development."
Read More: csdindia.in
Panda Environmental
"They have always treated me extremely well and have worked very hard to provide me with an exceptional level of customer service, at a fair price. I also appreciate that with Panda Environmental Services I have NEVER been asked to sign a contract with them, unlike most of their competitors."
- Kirk Garner on Panda Environmental
Click here to see more testimonials!

Panda Environmental has strived to be a leader in the responsible waste management and recycling solutions across Ontario for over 15 years. We are able to service all of your business's waste and recycling handling needs, including hazardous waste. For a full list of our service areas, you can click here. Click here for a list of all of the waste management and recycling solutions that we provide.
Want to learn more about how to reduce waste in the workplace? Contact Panda Environmental today!