If you're looking for little ways to work towards a more sustainable earth and reduce the amount of waste your household produces, recycling old or unused products is a great solution. As do-it-yourself (DIY) projects become more and more popular, there are many how-to DIY recycling guides for almost every item you can think of. In this article, we'll look at the top 10 best recycling ideas we've found and why they made our list. For more information about waste management services and recycling services, contact Panda today! Our service area includes many parts of Southern Ontario, including Guelph, Kitchener, Waterloo, and more.  
Looking For More Information About Recycling?

Best Recycling Ideas - Repurposing Old Items
We often throw away paper, cardboard, bottles, and other unused or empty household items without thinking twice. However, recycling offers both economic and environmental benefits! If you are willing to put in a little bit of time and creativity, you can create beautiful, useful repurposed items that can help reduce waste and save you money. Reusing means you use and throw away less packing (usually plastic), and you throw away fewer items that may end up in landfills. When you reuse old items, the earth and your wallet thanks you!
#1 - Cardboard Creations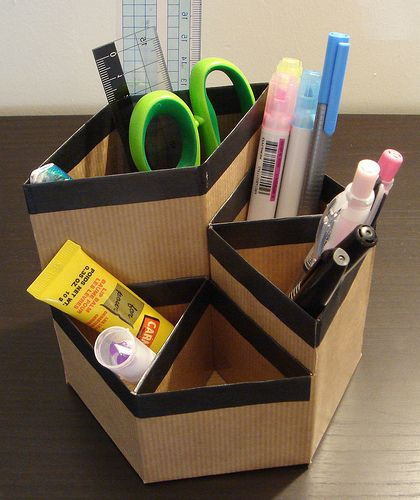 Image source: blog.shoplet.com, retrieved from Pinterest
This awesome desk organizer is made almost completely from old cardboard! This DIY project will take no more than half an hour, and once it's finished, you have a useful, attractive desk organizer to store all your important office supplies. Desk organizers typically cost between $15.00 - $30.00, but this repurposed organizer is absolutely free. You can see more cardboard organizational ideas on Pinterest here!
#2 - Repurposed Pallets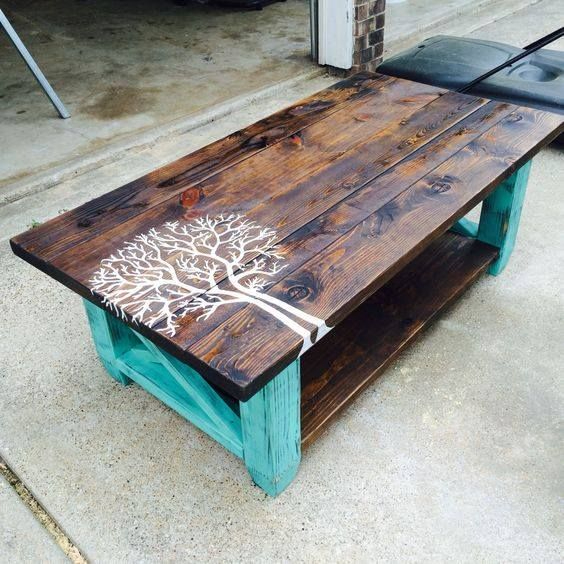 Image Source: myincrediblerecipes.com, retrieved from Pinterest
The repurposed wooden pallet trend continues to gain traction all over the internet. That's because wooden pallets are such a versatile material, and can be made into a variety of beautiful household items. From dressers and shelves to tables and benches, the possibilities are nearly endless with a few wooden pallets and some great tools. Many homeowners have a few wooden pallets hanging around their garage or shed, but if you don't have any and are interested in a recycled project, you can pick up pallets from many local pallet stores for around $5.00, or find them for free on sites such as Kijiji! Click here to see more repurposed wood pallet ideas.  
#3 - Bottles Into Bird Feeders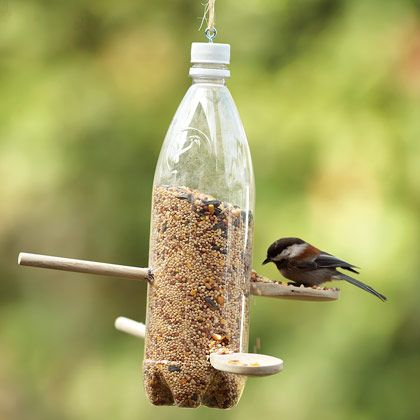 Image Source: bystephanielynn.com, retrieved from Pinterest
Some professionals have estimated that only 14% of plastic water bottles in Ontario are recycled. Most households currently have or at some point have used plastic water bottles for various reasons. Fortunately, there are many ways you can repurpose your water bottles yourself if you are not keen on throwing them away or sending them to a recycling plant. The image above shows a simple bird feeder made from an old plastic bottle and two wooden spoons. If you have a large yard, you could place multiple plastic feeders all around, giving local birds a safe place to feed! Click here to see more recycling ideas for old bottles.
#4 - Adorable Decor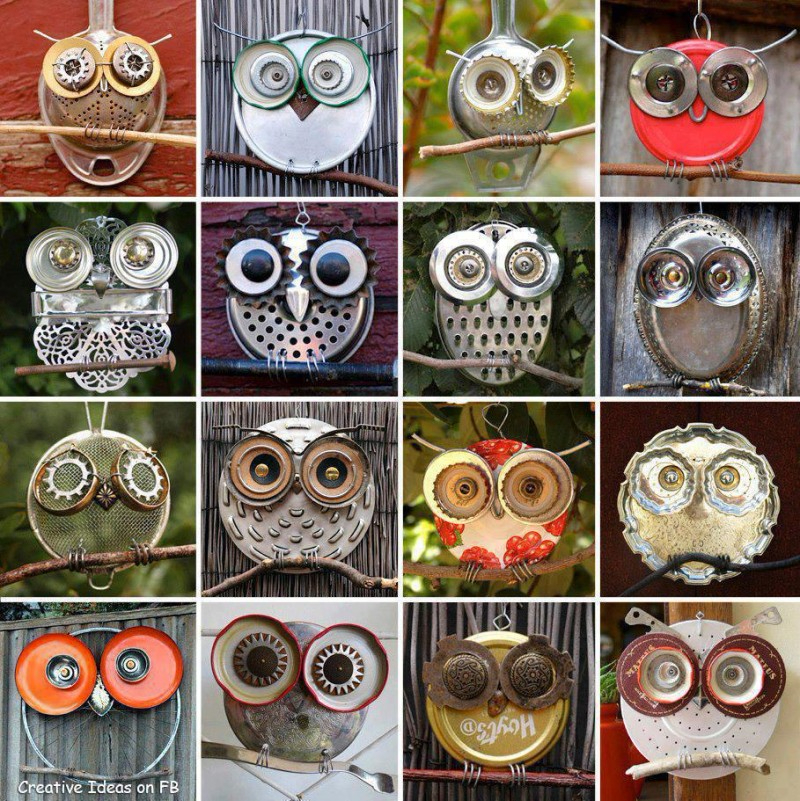 Image source: beautyharmonylife.com
Don't know what to do with old metal graters, bottle caps, spoons, and more? These adorable little owls are a great example of creative repurposing. If you're a fan of rustic decor, consider using your old metal scraps for miniature sculptures. You can place them around your home, add a magnet to the back and create new fridge magnets, or gift them to others. Learn more about this creative craft here.
#5 - Repurposed Dish Racks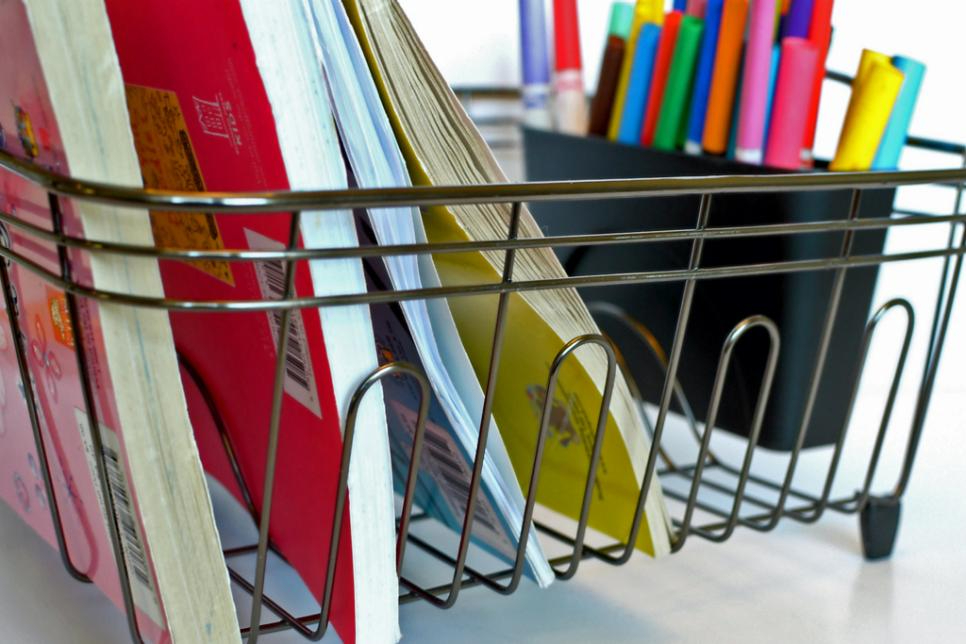 Image source: hgtv.com
When we buy a new item to replace an old one, most of us just throw the old one away. Learning to repurpose old items is one of the best ways to recycle! This old dish rack was turned into a convenient "colouring station" for kids! The cutlery holder is the perfect place to keep crayons, pencils, and markers. The dish rack itself acts as a magazine holder, keeping your kids' favourite colouring books organized and looking great. Learn more from HGTV now! 
#6 - Board Game Shelves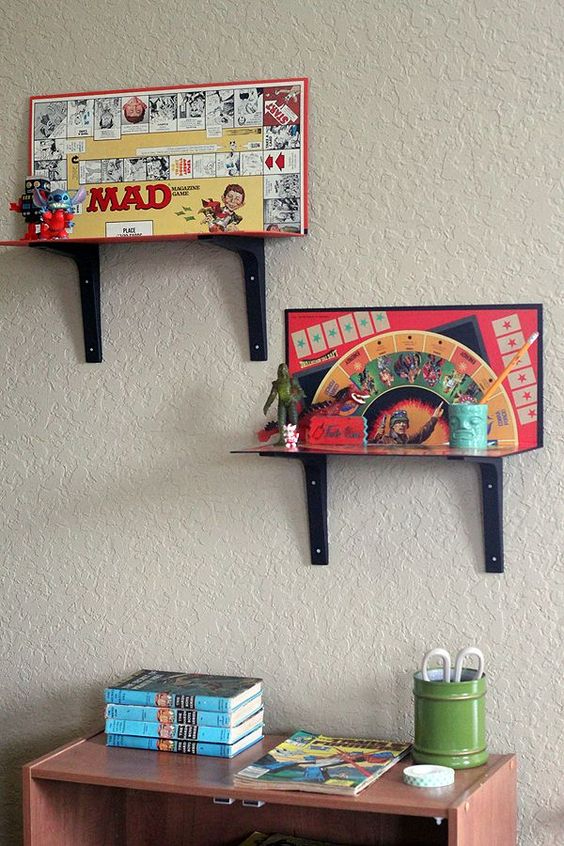 Image source: organizinglady.com, retrieved from Pinterest
Can't figure out what to do with your old board games? Over time, it's not uncommon for board games to lose their pieces, become damaged, or even feel outdated. Before you choose to throw a board game in the trash, consider this whimsical recycling tip! This homeowner transformed their old, unused board games into funky shelving solutions. These would work perfectly in a games room or a kid's room. And if you're not into this look, consider donating your old board games to a thrift store. See more ideas from The Organizing Lady.
#7 - Old Doors, New Looks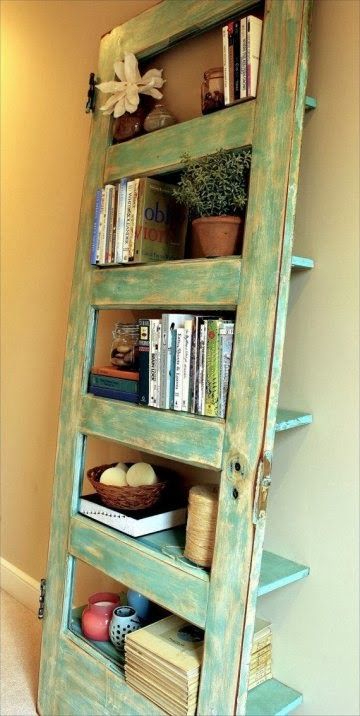 Image source: dishfunctionaldesigns, retrieved from Pinterest
If you have just gone through a large home renovation, you may have an old door or two left over. If you're looking for ways to creatively repurpose your old doors, consider transforming them into beautiful, rustic shelves! It's almost hard to believe that this bookshelf pictured above was made from an old door. You can paint it a bright colour to add a personal touch and fill it with all your favourite books and decor. See what else you can do with old doors here!
#8 - Jugs Into Planters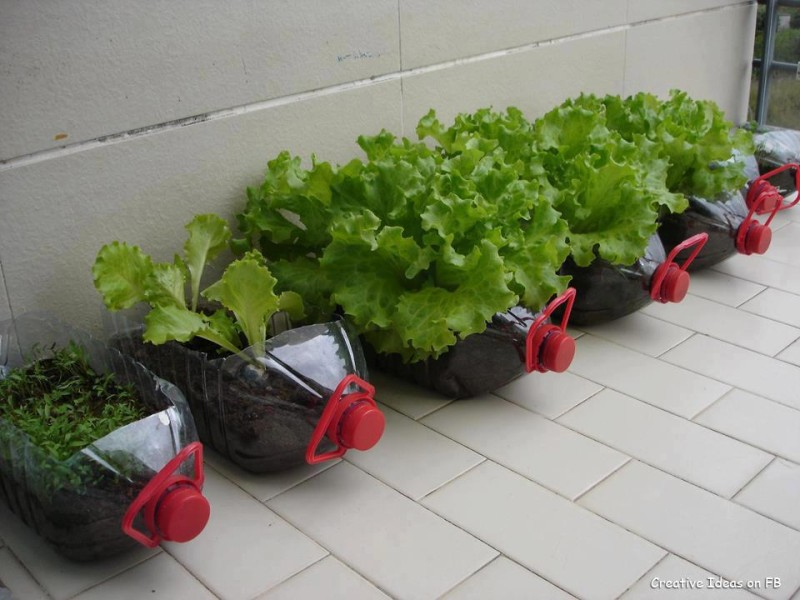 Image source: beautyharmonylife.com 
If you have a water cooler/water dispenser that uses plastic jugs, you may end up with a lot of plastic every month or so. The good news is, there are lots of ways you can repurpose your empty plastic jugs! Consider transforming your old jugs into planters. If you love flowers, plant your favourite seasonal flowers. If you're into gardening, you can create a miniature garden within your old jugs - you'll be recycling, and you'll have fresh herbs, veggies, and fruit too! See more ideas for recycled plastic jugs here!
#9 - Repurposed Cabinets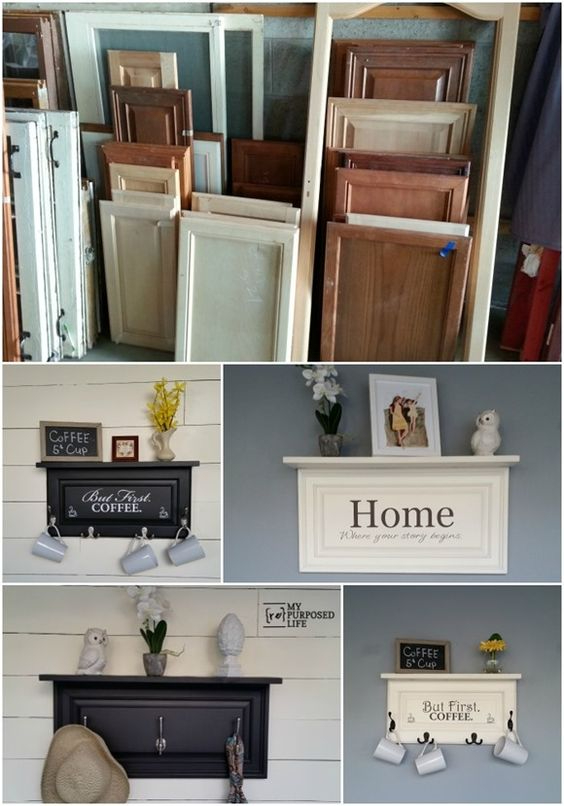 Image source: homeright.com, retrieved from Pinterest
Like the repurposed doors idea, you can also repurpose the doors and parts of an old cabinet no longer in use. Old cabinet doors are the perfect size to create hat or scarf hooks, coffee mug hangers, or adorable DIY wall prints. Due to the shape of many cabinets, most even have a small ledge you can use as a shelf for your favourite picture frame or small potted plant. Learn more from DIY HomeRight! 
#10 - Recycled Kid's Crafts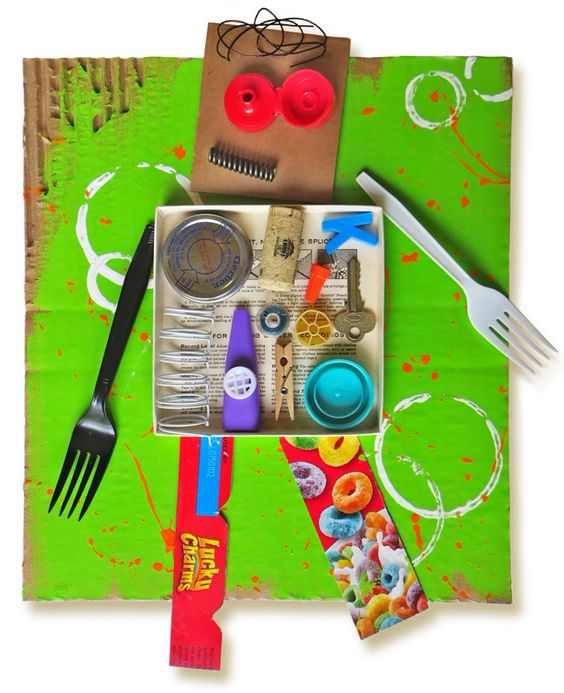 Image source: Pinterest.com
Teaching kids the importance of recycling early on will help them learn to make greener choices as they grow up. Instead of constantly buying new craft supplies, use old items from around the house. Old cereal boxes, cleaned and repurposed plastic forks and spoons, old lined paper, and random leftover items in your junk drawer can all be turned into a fun afternoon of crafting. Kids can create toys from almost anything - you don't have to spend hundreds of dollars on the newest craft craze to have a fun, creative Saturday afternoon activity! Click here to see more recycled craft projects for kids. 
How Else Can I Recycle?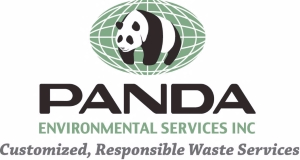 Sometimes, it is not possible to repurpose items for many reasons. You may not have the time required to put into a DIY project, or your items may not be suitable for repurposing. If you do not plan on repurposing, ensure you put all recyclable materials into a recycling bin instead of the garbage.
When you work with Panda, you work with a waste management company that cares about recycling and the environment. Panda Environmental has strived to be a leader in responsible waste management and recycling solutions across Ontario for over 15 years. We are able to service all of your business' waste and recycling handling needs, including hazardous waste. For a full list of our service areas, click here. 
Click here for a list of all of the waste management and recycling solutions that we provide.
"Very good service, using PANDA for years and all I can say they are the best in region.
Brant the sales rep is amazing guy to deal with."

- Robert, read more Google Reviews here!

Contact Us Today!
Toll-Free: 1-877-745-4140